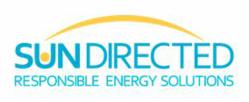 Sun Directed is proud to be chosen as a participating contractor to help Penelec and West Penn Power customers take advantage of high-efficiency solar water heating, save on their energy bills, and qualify for a $500 rebate.
State College, PA (PRWEB) July 10, 2012
Pennsylvania homeowners can now work directly with Sun Directed to obtain $500 rebates as well as energy savings on their solar hot water heating systems. Certified solar system installer Sun Directed has been accepted into the Residential Energy-Efficient Solar Thermal Water Heater Program from FirstEnergy's utilities, becoming one of a select group of solar energy system providers to qualify as a participating contractor.
Under the rebate programs, Pennsylvania residential customers of Penn Power, West Penn Power, Penelec and Met-Ed can receive a $500 rebate for installing a high-efficiency solar thermal water heating system. The utility's website explains the program criteria and eligibility and helps consumers find a participating contractor.
As an approved participating contractor, Sun Directed helps both West Penn Power and Penelec customers throughout central Pennsylvania achieve savings in two important ways: first, by installing super-efficient solar hot water systems that reduce their home energy bill significantly -- up to 50 percent over electric water heaters. Consumers selecting Sun Directed look to the company's solar systems design and installation professionals to:

Assess the homeowner's current water heating system
Explain energy-efficient solar technology and equipment options
Provide a detailed estimate
Perform a quality installation
The second way Sun Directed helps consumers save money with solar is by helping them complete the FirstEnergy Solar Thermal Equipment Rebate Application.
To qualify for the rebate, high-efficiency solar thermal equipment must be installed by a participating contractor such as Sun Directed and must meet all program requirements. In addition to a sales receipt, proper documentation includes a copy of the Solar Rating and Certification Corporation (SRCC) certificate indicating the model number and that it is OG-100 certified.
"We're fully committed to the green benefits of solar hot water systems as well as solar electric systems and portable solar power. Solar energy is the sole focus of our business," said Michael Shadow, Sun Directed founder and president. "It's great to see our electric utility actively promoting the benefits to their customers. We're honored to be part of this program."
"Our contractors are proven solar thermal system experts. To be selected as participating contractors, they must meet and adhere to strict performance measures," said Nicole Froelich of Honeywell Utility Solutions, which administers the programs for West Penn Power and Penelec. "We're delighted to welcome Sun Directed to our fine group of participating solar system contractors."
The $500 rebate is available to residential customers of West Penn Power, Penn Power, Penelec and Met-Ed. "Since the rebate programs are retroactive, many of Sun Directed's existing installations qualify. We look forward to helping both past and future customers apply for their solar thermal rebate," concluded Shadow.
The Solar Thermal Rebate is one of several energy efficiency rebates offered by FirstEnergy. It is one of many ways FirstEnergy's utilities are working to help customers reduce their energy usage and increase their energy efficiency.
Sun Directed is dedicated to responsible energy solutions and empowering customers to create their own energy from clean, abundant, natural sunlight. Sun Directed offers Central Pennsylvania homeowners and business owners a range of solar water heating system choices certified by Solar Rating and Certification Corporation and qualifying for both federal tax credits and FE PA rebates. Sun Directed is one of an exclusive group of Pennsylvania solar installers certified by the North American Board of Certified Energy Practitioners (NABCEP). The company's environmentally minded team provides customers with up front, transparent solutions, fast service, and precision installations that make them proud to be a part of the solar revolution.
For more information: Sun Directed, PO Box 10118, State College, PA 16805.
(814) 31-SOLAR.