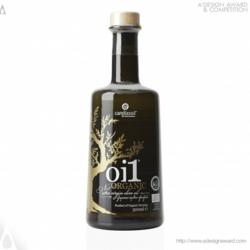 Como, Italy (PRWEB) July 05, 2012
A' Award and Competitions are proud to tell that the work Oi1 For Candiasoil has been honored with the noteable Golden A' Design Award at Packaging Design Competition picked as the winner by the transnational jury members of the A' Design Awards & Competitions among numerous works.
Regarding Oi1 For Candiasoil
Ioanna Drakaki, the creator of the winning project Oi1 For Candiasoil explains, "We aimed at creating an exclusive design of simple elements. For the Oi1 organic we wanted to underline the health and nutritional aspects of the oil by choosing a bottle that reflects earlier designs of medical bottles as well as for the conservation properties of the dark brown glass. For the Oi1 Premium the choice of the clear Dorica bottle in a cylindrical container that offers the opportunity for the consumer to examine the color of the oil as well as keeping the olive oil protected from damaging light. " Learn more: http://www.adesignaward.com/design.php?ID=24009
Creative Team for Oi1 For Candiasoil
Oi1 For Candiasoil was made by graphic design company: Lazy Snail - Ioanna Drakaki, Nicoleta Vasilaki, Jannik Weylandt, Printing company: Cabas - Panos Cabas, Photography: Jannik Weylandt Photography and Client: Candiasoil - George Tsikandilakis
The Golden A' Design Award
The Golden A' Design Award is a prestigious award given to top 3% percentile designs that has achieved an exemplary level of perfection in design. The designs are judged by a panel of three different jury which is composed of academic, professional and focus group members. The designs are evaluated with score normalization to remove any biases and are voted on aspects such as functionality, ergonomics, engineering, presentation, innovation, usability, fun details, technology, and any other specific points that could be considered, each of these points are further weighted for different jury groups.
About A' Design Award and Competitions
A'Design Award and Competitions, aims to highlight the excellent qualifications of best designs, design concepts and design oriented products. A' Design Award and Competitions are organized and awarded annually and internationally in multiple categories to reach a wide, design-oriented audience. Learn more: http://www.whatisadesignaward.com