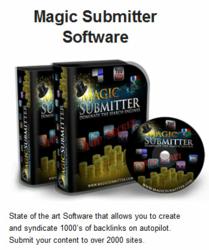 Watch how Magic Submitter pushes you to the top of Google, sends you qualified traffic, and gives you more customers...all on autopilot
(PRWEB) July 04, 2012
Alexandr Krulik releases his SEO Automation software called Magic Submitter, and backs it up with a 60-day money back guarantee.
Claiming that the unspoken axiom "whoever has the most backlinks, wins" is a myth, Krulik goes on to explain that volume of backlinks alone is insufficient when not properly coupled with optimization of the essential qualities of variety and consistency of backlinks. This is his secret ingredient, and the primary thrust of the software.
The price of the product includes all the tools, training, live coaching, and tech support (Krulik is known to have vested himself personally even with user troubleshooting issues). To what ends? Page rank. Magic Submitter promises to rank almost anything atop Google, Bing, and Yahoo. With button-click ease the software aggregates and submits all types of well-spun content to disparate locations with a nifty drag-and-drop system.
In Krulik's own words, "Watch how Magic Submitter pushes you to the top of Google, sends you qualified traffic, and gives you more customers...all on autopilot".
You can CLICK HERE to view Alexandr Krulik's product presentation firsthand