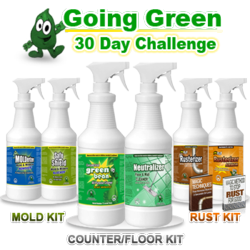 With the incorporation of going green with cleaning, moms don't need to spend big to be of help to the planet.
Columbus, OH (PRWEB) July 06, 2012
Rust removal is just one of the processes that one needs to implement in maintaining a clean home environment. Nonetheless, it, along with other cleaning steps, will only produce positive results if the solutions used are effective and safe. So to help cleaning companies and going green mothers ensure that safety and effectiveness, MyCleaningpProducts developed a line of cleaners with the use of natural ingredients.
The idea behind MCP 's product line is for the company to supply cleaners infused with wellness. So to get that done, Markus Skupeika, MyCleaningpProducts CEO, traveled to Peru to look for the green ingredients needed.
Make Your Cleaning Effective and Green. Get the Best Green Cleaning Products Today.
After the quest for the green elements and a series of intensive research, the company formulated a set of cleaning solutions imbued with wellness. As they're made of natural ingredients, the use of them presents no health risks that are often associated with harsh chemical ingredients. Apart from that, choosing them over other conventional cleaners also prevents more pollutants released into the environment.
What's more is that the products are also mixed with natural fragrances. With them, a room treated with any of MCP's cleaners is refreshed. That, in return, creates a relaxing indoor atmosphere. And although the company's rust removers and other cleaners are made with natural ingredients, they don't compromise the cleaning processes' effectiveness.
See How Wellness is Infused with MCP Cleaners
With those benefits, health preserved and cleanliness maintained, surely, anybody can get more from MCP's green cleaning products than from any other cleaner in the market. But what does that means for cleaning companies and going green mothers?
Well, for cleaning companies, that means they got more to offer to the clients. The "green-ness" of the services gives any company an edge which can translate to bigger profit. On the other hand, for green moms, the use of the eco-friendly cleaners for rust removal, mold removal and other cleaning processes means big savings. Basically, that's because green cleaning products roll going green and cleaning into one.
With the incorporation of going green with cleaning, moms don't need to spend big to be of help to the planet. With it, anyone is also spared from chemical-related illnesses. Hence, in a way, it also spares users from added medical bills.
Among the green cleaners that MyCleaningpProducts has to offer are Rusterizer for rust removal, Molderizer for mold remediation, and Bed Bug Bully for bed bug treatment.