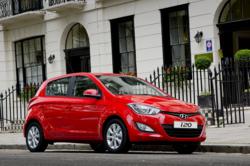 (PRWEB) July 05, 2012
The Hyundai Accent, i30 CW, Veloster and Santa Fe all received the accolade of being named the most economical cars to own and operate in their respective classes. As a further testament to the value and affordability offered by the current line-up, eight Hyundai variants placed in the top 10 in the competitive 'Light Cars over $20,000' segment.
The previous generation i30 took first place in the NRMA survey 'Small Car over $30,000' category, its third consecutive segment win, as well as taking top spot for its segment in both the RACQ and RAA surveys.
"This year sees the calculator packed with operational costs for an unprecedented 1500+ vehicles, making it the most comprehensive survey of its type," said NRMA Motoring & Services Research Engineer David Carr. "Hyundai vehicles rated well in the 2012 survey."
Each State calculates 'Whole-Of-Life' costs for the vehicles based on a unique set of guidelines; all calculations have been based on buying a new vehicle and operating it for five years, with an annual distance of 15,000 km in line with Australian Bureau of Statistics surveys' average vehicle use.
In the competitive light and small car classes, the Hyundai i20, Accent and i30 models all received top 3 placings, with the RACV recording operating costs as low as $83.78 for the Hyundai i20 Active 3 door 1.4L Manual .
Elsewhere in the RAA, RACQ and RACV surveys, the Hyundai iMax 2.4-litre four-speed automatic four-door recorded a second placing among people movers.
"These results see nine Hyundai models achieve top three places of their respective categories across the four motor club surveys." said Nick Aravanis Hyundai Motor Company Australia's Director of Aftersales. "The results once again prove Hyundai's expertise in producing vehicles which offer outstandingly low operating costs, supported by affordable maintenance schedules Australia's first 5 year unlimited km warranty."
Comprehensive results of the 2012 surveys are available at the RACV, RACQ, RAA, and NRMA websites.
NRMA survey results include four class winners:

Light car over $20,000; Hyundai Accent Active CRDi 4sp 1.6 auto
Small car over $30,000; Hyundai i30 CW SLX CRDI 4sp 1.6 auto
Sports Performance under $80,000; Hyundai Veloster 1.6 6sp dual clutch auto
SUV Medium under $50,000; Hyundai Santa Fe SLX CRDi 6sp 2.2 manual
RACV survey results include:

Small car segment – 2nd place; Hyundai i30SX 1.6 petrol five-door hatch
Small car segment – 3rd place; Hyundai Elantra Active 1.8 petrol sedan
Medium car segment – 2nd place; Hyundai i45 Active 2.0 petrol sedan
People Mover – 2nd place; Hyundai iMax 2.4 petrol wagon
Compact SUV – 2nd place; Hyundai ix35 Active 2.0 2WD petrol hatch
RACQ survey results include:

Light Car segment – 3rd place; Hyundai i20 Active 1.4 5sp 3dr manual hatch
Small car segment –1st place; Hyundai i30SX 1.6 4sp 5dr auto hatch
Medium car segment – 2nd place; Hyundai i45 Active 2.0 6sp 4dr auto sedan
People Mover segment – 2nd place; Hyundai iMax 2.4 4sp 4dr auto wagon
Compact SUV – 2nd place; Hyundai ix35 Active 2.0 6sp auto 4dr wagon
RAA survey results include:

Light car segment – 3rd place; Hyundai i20 Active 1.3L 5sp 3dr manual hatch
Small car segment – 1st place; Hyundai i30 SX 1.6L 4sp 5dr auto hatch
Small car segment – 3rd place; Hyundai Elantra Active 1.8L petrol sedan
Medium car segment – 2d place; Hyundai i45 Active 2.0L petrol sedan
People Mover segment – 2nd place; Hyundai iMax 2.4L 4sp 4dr auto wagon
Compact SUV segment – 2nd place ; Hyundai ix35 Active 2.0L 6sp auto 4dr wagon