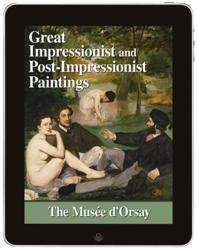 Fantastic. This is what enhanced ebooks are for.
Don Linn, Goodreads.
(PRWEB) July 10, 2012
There are scalable reproductions of nearly 200 paintings by 26 artists including such favorites as Manet, Monet, Renoir, and Van Gogh; over three hours of original audio information about the artists and their paintings; and more than 500 hyperlinks to some of the best sites on the Internet to learn more about the artists and their work.
Handsomely designed and intuitively interactive, this book is more than "just another pretty face." It is an outstanding work of scholarship. The audio commentaries and texts are by Charles F. Stuckey, one of the world's foremost scholars on Impressionist art. Dr. Stuckey has held senior curatorial positions at The Minneapolis Institute of Arts; The Art Institute of Chicago; and the National Gallery of Art, Washington, D.C. He has organized major exhibitions on Impressionist and Post-Impressionist artists including exhibitions on Monet, Gauguin, and Toulouse-Lautrec, and written monographs on Monet, Gauguin, Morisot, and Toulouse-Lautrec.
To give context to the Impressionists, the artists in the e-book begin with the Salon painter, William Bouguereau, then the realists Daumier, Corot, and Millet, followed by Manet (who was an inspiration to the Impressionists though he never exhibited with them). The focus then turns to the Impressionists such as Monet, Renoir, Sisley, Cassatt, Morisot, and others; and Post-Impressionists including Gauguin, Cézanne, Van Gogh, and Seurat.
There is at least one featured painting by each of the artists. The featured painting has an audio commentary by Dr. Stuckey lasting approximately five minutes about the artist, the painting, and the context of the painting. There is also text by Dr. Stuckey about each featured painting. There are between 10 and 30 curated links for each artist and featured painting. These include biographies of the artist, articles about the artist, works by the artist in other museums, artist quotes, videos and even free e-books about the artist. Following the featured works are other paintings by the artist in the Orsay.
The Musée d'Orsay was opened in 1986 in an old train station along the Seine, within walking distance of the Louvre. The Orsay is dedicated to the art of the nineteenth century, a century during which French art changed the art world and created "modern" art. In 2011, the Orsay Impressionist collection was installed in a newly designed 5th floor of the museum. Images of the newly designed Orsay Impressionist Galleries are featured in this e-book.
The e-book is easily navigable with links on the pages to the table of contents, the featured paintings, and the Internet links.
Published by Artepublishing, a division of Hugh L. Levin LLC
Distributed by Abrams Books
Available at the iBookstore
http://itunes.apple.com/us/book/isbn9781938153020
ISBN-13: 978-1-938153-02-0