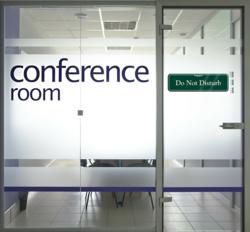 "Do Not Disturb signs will go a long way in helping our customers create a harmonious atmosphere," said Rivka Fogel, Manager at MyDoorSign.com.
Brooklyn, NY (PRWEB) July 05, 2012
MyDoorSign.com, a web distributor of premier quality door signs, has released a new line of Do Not Disturb Signs. These signs encourage cooperation and provide peace.
Conference and meeting room areas require special signage. If a meeting is interrupted, it can set a negative tone for a meeting, interview, or session. MyDoorSign's new signs are especially useful for conference room areas or counseling offices. Messages such as "In Session: Do Not Disturb" can indicate that a private counseling or therapy session is going on and it is ill-advised to interrupt.
MyDoorSign offers the largest variety of Do Not Disturb Signs online. One of the most upscale options are the ShowCase Signs, made from molded plastic with subsurface graphics. These signs add a note of elegance to workplace doors and maintain professionalism. The slider signs indicate whether a room is occupied or vacant. Select-A-Color Engraved Signs come in at least 16 different colors and can easily match decor. Custom templates are provided for easy ways to add in text or upload photos.
Other options for sleeker workplace looks are DiamondPlates and OfficePal Signs. DiamondPlate Signs have print embedded into the aluminum. A high bond adhesive fuses the sign to the wall. OfficePal Signs are tent-shaped and can be placed anywhere. Additionally, the site also offers a wide variety of "Do Not Disturb" and "Quiet" signs with standard cautionary messages. "Do Not Disturb signs will go a long way in helping our customers create a harmonious atmosphere," said Rivka Fogel, Manager at MyDoorSign.com.
For more information, visit http://www.mydoorsign.com/Door-Signs/Please-Do-Not-Disturb-Sign.aspx.
About MyDoorSign.com
MyDoorSign is the web's largest source for door signs. The web store offers more than 10000 different in stock door signs and over 300 easy to complete custom door signs templates.
About SmartSign
SmartSign is one of America's fastest growing e-commerce companies and parent of MyDoorSign.com, MyParkingSign.com, as well as more than 50 other sites. The company manufactures and distributes a wide range of signs, tags, mats, and labels. In the past, many consumers have found it hard to find, hard to design and hard to order signs with the right message. By positioning "signs as solutions," SmartSign has taken an entirely different approach. Through highly targeted, content-rich, and authoritative retail sites, the company provides specific solutions to specific problems, such as providing the right door sign. SmartSign is widely recognized for its quality construction; its signs come with a 3M® warranty and outlast fast-fading, ink-jet signs. Other SmartSign advantages include fast and free shipping, the Web's largest range of designs, and a best-price guarantee.