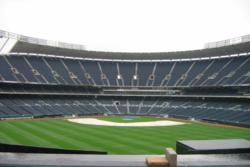 Kansas City, Missouri will host the 2012 All Star Game and Home Run Derby
Kansas City, MO (PRWEB) July 05, 2012
The 2012 Major League Baseball All Star Game will be held on July 10th at Kauffman Stadium in Kansas City. This stadium is the home stadium of the Kansas City Royals This year will mark the third time the All Star Game has been hosted in Kansas City. In 1960 the Athletics were based in Kansas City and the game was played at Municipal Stadium. In 1973 the game was played at Kauffman Stadium which was the first year for the new Royals stadium. The Fox televsion network will cover and broadcast the game.
The people who live in Jackson County, Missouri voted on and passed a .375% sales tax increase in an election on April 4, 2006. After the sales tax increase was passed, Bud Selig promised the Kansas City Metro area that the Royals would host an All Star Game no later than 2014. In mid-June 2010, he gave the Royals the opportunity to host the 2012 edition of the MLB All Star Game. The other ballpark being considered for hosting the game was Fenway Park, but this park had already hosted a game only about 13 years ago so the logical choice was Kansas City.
Fans vote on the players for the All Star Game and the following starters have been elected for the American League: Mike Napoli, Prince Fielder, Robinson Cano', Adrian Beltre, Derek Jeter, Jose Bautista, Curtis Granderson and David Ortiz. Starters from the National League are: Buster Posey, Joey Votto, Dan Uggla, pablo Sandoval, Rafael Furcal, Melky Cabrera, Carlos Beltran and Matt Kemp.
Cheap Concert Tickets has great prices on the 2012 MLB All Star Game along with all other related events including: All Star Sunday, All Star Workout and the Home Run Derby.