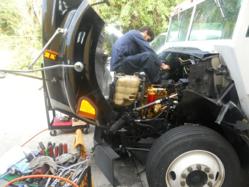 3-Year Unlimited Mileage Warranty on All Transmission Rebuilds
Orlando, FL (PRWEB) July 05, 2012
Superior Transmission and Auto Repair, an Orlando-based auto repair shop announces that they are now offering transmission repair for all makes and models. This makes them a one-stop shop for all vehicle needs. visit their website.
"The transmission plays an important role in a vehicle's mechanical functionality," says Howard Gross, owner of Superior Transmission and Auto Repair. "Any problem in the transmission can affect how a vehicle operates. If there are any problems with the transmission, their company can take care of it regardless of its make and model."
Depending on the complexity, some transmission problems may require replacement or rebuilding while some may simply need minor repairs. Some problems are even avoidable with regular maintenance. It helps when the car owner has a background of some of the common causes of transmission problems to avoid serious damage or problems not only in the transmission but in the vehicle.
A low level of transmission fluid is perhaps one of the most common causes of malfunction in the transmission. It oftentimes results from leaks in the transmission system. Without adequate level of fluid, the transmission will not function properly and symptoms like slow shifting and gear slippage are very evident.
Moreover, if the vehicle experiences slipping or sluggish shifting, the culprit could be a dirty fluid filter. A dirty fluid filter causes excessive dirt to build up in the transmission system resulting to several transmission problems.
"Transmission fluid at low level and dirty fluid filter may just be minor issues but may cause very serious problems in the transmission if not dealt with properly and immediately once the symptoms are detected," said Gross. Click Here to learn more.
Other causes of transmission problems that need immediate attention are worn-out transmission bands, gears and torque. Worn-out bands can badly affect gear function while worn-out gears result in transmission dysfunctions such as gear slippage. Additionally, a faulty or worn-out torque converter prevents proper pressurization of transmission fluid which in turn can affect the proper operation and functioning of transmission gear.
Gross encourages car owners to know some of the common causes and symptoms of transmission problems. "Car owners should be proactive in detecting when there are problems in their car. This can prevent minor car problems from becoming big and costly to repair."
Transmission repairs could be a little costly and require a reputable repair shop to do job right. The good news is that the best transmission repair services at the best price at Superior Transmission and Auto Repair. They use the latest equipment and methods to ensure customer satisfaction in all their services including transmission repairs. They also offer 3-Year Unlimited Mileage Warranty on All Transmission Rebuilds. This is one of the best deals ever find for car repair.
Preventive maintenance is always the best way to keep a transmission in better shape. This will keep the vehicle in better performance for a longer period of time requiring fewer repairs. But if problems may arise in the transmission, get the services of a reputable auto repair shop which values customer satisfaction. And don't let the problem go unrepaired for a long time.
About the Company:
Superior Transmission and Auto Repair is one of the leading auto repair shops in Orlando, Florida. They offer a variety of services for all the car needs including transmission repair for all makes and models. They are available 24/7 with shuttle pick-up or drop-off.
Superior Transmission and Auto Repair
5305 East Colonial Drive Orlando, FL 32807‎
407-704-7813
Contact them at or visit their Website at http://www.superiorcarrepair.com