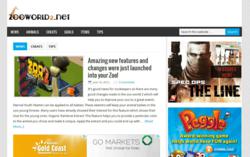 By adding the ability to keep your baby animals young forever, change them into unique colors, and send gifts to friends via the mobile version, they've already added greatly to Zoo World 2's unique appeal
Phoenix, AZ (PRWEB) July 14, 2012
Zoo World 2, the popular online strategy game from Rock You, has just received a massive new update, with dozens of new items and power-ups introduced into the game that are guaranteed to transform an already great gaming experience into a fantastic one.
ZooWorld2.net, the most popular news and updates website for the Zoo World 2 game, confirmed the news updates in a blog post on its official website, providing a detailed overview of how each new power-up and item works, and how it will enhance the player's overall experience.
One of the most exciting new items to be unveiled is something called the Eternal Youth Vitamin, which can be given to all baby animals and will ensure that they never grow old and die.
The Organic Rainbow Extract is another new addition that has attracted a lot of interest from players, allowing users to effectively change the color of their animals and create a truly unique animal.
Elsewhere, ZooWorld2.net revealed a number of new watch and earn items, as well as new animals including the super-rare Tasmanian Devil and Black Swans.
Finally, ZooWorld2.net also reported that players now have the ability to send gifts to their friends using the mobile app version of the game, allowing them to choose from all of the young animals in their zoo and send any one of them to a chosen friend.
Dan Lim, editor of ZooWorld2.net, said that the new updates had been in the pipeline for a while, and were sure to add to the game's appeal:
"We're delighted with the new updates, which Rock You had previously stated were in development some time ago. By adding the ability to keep your baby animals young forever, change them into unique colors, and send gifts to friends via the mobile version, they've already added greatly to Zoo World 2's unique appeal."
"And with the addition of rare new animals, we're sure that many new players are going to want to try them game for themselves."
ZooWorld2.net said that the new updates were rolled out earlier this month, although the game's developer Rock You made no official announcement about the changes. To read about the updates in more detail, visit ZooWorld2.net.
About ZooWorld2.net
ZooWorld2.net is one of the most popular news and updates websites for the hit social media and mobile game Zoo World 2. The website is overflowing with articles and news about Zoo World 2, and has become the number one resource for thousands of gamers looking for the latest hints, tips and cheats for the game. For more information, check out their website at http://www.ZooWorld2.net.