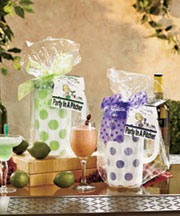 Atlanta, GA (PRWEB) July 09, 2012
Old World Gourmet has teamed up with leading catalog retailer LTD Commodities to release a special collection of their best selling line of Vinolicious Party Pitchers just in time for summer pool parties. OWG created this line to celebrate the warm summer months and spending time outdoors with family and friends.
Deanna Sullivan, The founder of OWG and all her employess enjoy a good pool party and nothing beats the sweltering summer heat like a pitcher of OWG frozen wine, lemon, peach, or, of course, margarita.
This line is exclusive to LTD and can only be found their fall catalogs LTD Commodities and ABC Distributing, or on the the LTD website at http://www.ltdcommodities.com. Search keyword vinolicious
About Old World Gourmet
Old World Gourmet is a manufacturer of frozen wine and liquor drink mixes and recipes who has been "serving fun for over a decade". OWG has a complete line of mixes and recipes for whatever your adult drink of choice and promotes all natural and made in the USA products. OWG products are found in finer gift retailers nationwide and online as well as online at the company website owgshoponline.com or on facebook.com/old world gourmet and twitter @oldworldgourmet