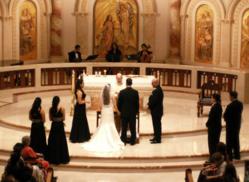 Weddings are the trump of all parties
San Antonio, Texas (PRWEB) July 11, 2012
The Wedding Seminar has put together a compilation of traditions along with their meanings into a short 2 hour seminar called "the intimacy of weddings" to be presented to wedding and event specialists on Saturday, July 28, 2012 from 3:00 - 5:00 in the afternoon.
"Weddings are the trump of all parties and hold many elements of meaning and significance that shouldn't be over-looked" says Patricia Ann, owner and speaker of The Wedding Seminar.
This seminar will showcase the meanings behind the traditions we use in weddings and how they hold significant meaning to life and marriage and business success for event and wedding planners.
The Wedding Seminar was developed by owner and head wedding planner of The Wedding Studio, Patricia Ann Gibbons. With over 12 years of wedding planning experience, Patricia Ann is conducting her new seminars on The Intimacy of Weddings and her 2-day long seminar for young women "Be Wed".
For more details and to register for this seminar contact Patricia at 210-601-2318 or by email at weddings(at)theweddingstudiosa(dot)com. Cost is $35 per person. The Wedding Studio office is located at 150 W. Rhapsody Dr, San Antonio, Tx 78216