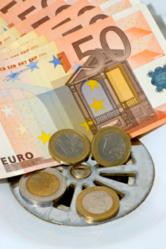 I'd argue that if our culture was responsible for not only hyperinflation, but also Hitler, we'd be just as hesitant to follow policies that led to the disastrous events of the 1920s.
New York, NY (PRWEB) July 08, 2012
In a recent Investment Contrarians article, editor Danny Esposito suggests Germany was determined not to join in the call for money printing because its central bank—the Bundesbank—has erected symbols of the Weimar hyperinflation in its halls. Esposito comments that the eurozone is now running out of options as the banks in Italy, Spain, and Greece need money or they will go bankrupt.
"Although the rest of the world and the rest of the eurozone claim that Germany is overreacting, I'd argue that if our culture was responsible for not only hyperinflation, but also Hitler, we'd be just as hesitant to follow policies that led to the disastrous events of the 1920s," comments Esposito.
One can't solve debt with more debt and greater spending. The only solution was to reduce debt and eliminate social programs that the countries could not afford in the first place, to the point where debt becomes manageable, believes Esposito. From this, growth can then resume in the eurozone.
"Germany suffered through such a transition; the rest of the eurozone needed to toe the line as well," Esposito observes. "The problem is that the austerity measures caused a lot of pain and led to the countries contracting—to the point where they are in a deep recession and, for some southern eurozone countries, a depression. Unemployment is skyrocketing, and there is no growth to be found."
The people of France were frustrated—to the point where the first socialist leader in almost 20 years was recently elected. France, along with many other countries of the eurozone, is now calling for growth with austerity, notes Esposito.
So Germany now stands alone (along with Austria and the Netherlands, but they are small countries), and in Esposito's opinion, it must decide whether to give in and print money to satisfy this "growth" initiative, or walk away and allow the eurozone experiment to completely unravel, because the other eurozone members say that they will no longer tolerate austerity.
Esposito concludes by saying that with hyperinflation as a real possibility in the future because of money printing, Germany is left with the choice to print or let the eurozone experiment die.
To see the full article and to get a real contrarian perspective on investing and the economy, visit Investment Contrarians at http://www.investmentcontrarians.com.
Investment Contrarians is a daily financial e-letter dedicated to helping investors make money by going against the "herd mentality."
The editors of Investment Contrarians believe the stock market and the economy have been propped up since 2009 by artificially low interest rates, never-ending government borrowing and an unprecedented expansion of our money supply. The "official" unemployment numbers do not reflect people who have given up looking for work and are thus skewed. They believe the "official" inflation numbers are also not reflective of today's reality of rising prices.
After a 25- to 30-year down cycle in interest rates, the Investment Contrarians editors expect rapid inflation caused by huge government debt and money printing will eventually start us on a new cycle of rising interest rates.
Investment Contrarians provides unbiased research. They are independent analysts who love to research and comment on the economy and investing. The e-newsletter's parent company, Lombardi Publishing Corporation, has been in business since 1986. Combined, their economists and analysts have over 100 years of investment experience.
Find out where Investment Contrarians editors see the risks and opportunities for investors in 2012 at http://www.investmentcontrarians.com.