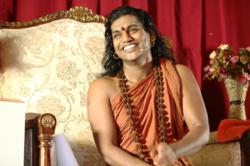 The mind by its nature believes somebody's failure immediately but takes lot of time to believe somebody's victories and beliefs.
Los Angeles, CA (PRWEB) July 05, 2012
Madurai Aadheenam: July 1st 2012 Paramahamsa Nithyananda addressed his followers worldwide by saying, "Sri Krishna is very clear, that everything happens, in the natural flow of Prakriti. Prakriti means by innate nature, everything has its quality. Anything which has a form or name has quality.
Your pure self which is master in you, that pure self is neither affected nor disturbed by your performance. It resides in its pure strength. It neither asks you to perform something, nor enjoys your performance.
This is the highest ultimate truth which is beyond advaita. The truth in this verse can be realized only by contemplating again and again and again.
Ordinary logic only tries to disprove any statement it hears. But now, these kind of spiritual truths cannot be handled in same way with ordinary logic. This can be realized only if one has a cognitive shift. It means one has to try to use the logic neutrally and see, if this truth becomes part of one's life, what will happen to the physical, mental and emotional health and one's relationships."
Paramahamsa Nithyananda encouraged more people to use utility based logic to calculate & analyze whether this truth will attribute to what one wants in their life or disturb it. He said, "Otherwise spiritual truths never attract people. It is the utility given by spiritual truths that attracts one to even contemplate on them."
Paramahamsa Nithyananda said, "One should not handle these truths with the same logic and mind setup with which they handle their societal life. The mind by its nature believes somebody's failure immediately but takes lot of time to believe somebody's victories and beliefs. For example, in most of the Indian media, almost all headlines of all media, in the front page are usually of failures of people. The victory of others is usually the last page, the sports page. In a subtle unconscious way, people enjoy and believe failures more easily than the victories. There is a tendency to feel, 'I thought I am the only one having failures, but now this famous person is also facing failure.'
Constantly the mind cherishes, enjoys and believes other's problems. So please do not try to analyze these sacred truths with this logic.
Handle these truths in the inner space, with attitude of how this truth is going to enrich one's own life, by asking, 'Is it going to add to the enrichment of peace, bliss and spirituality.' Handle it with the attitude of utility value.
The master in you, the individual pure enlightened self, neither bestows nor does he perform. The connection of reward on other hand it is the inherent nature of prakriti. It is prakriti, inherent nature that is performing in you right or wrong, good or bad, enjoying or suffering.
One should contemplate on this truth in a neutral way and ask themselves, 'If I make this truth a part of my life, how is it going to change my life, my belief about me and my belief about my consciousness.' When one tries to think from this angle, this truth will become a reality in us."
ABOUT HIS HOLINESS PARAMAHAMSA NITHYANANDA:
Videos on Enlightenment Science:
http://www.youtube.com/watch?v=ty1DtDKt-08&feature=plcp
Inner Awakening videos:
http://www.youtube.com/playlist?list=PLD5E80C03E360B2F8&feature=plpp
Kundalini Awakening videos:
http://www.youtube.com/user/LifeBlissFoundation/videos?query=kundalini+awakening
Paramahamsa Nithyananda is not only one of the most watched Spiritual Guru on YouTube, he is ranked as one of the world's 100 most spiritually influential personalities. He has recently inherited the world's oldest and most ancient Hindu Spiritual Organization – the Madurai Aadheenam, by being coronated as the 293rd pontiff of Madurai Aadheenam.
Paramahamsa Nithyananda is a global leader in yoga, meditation, kundalini awakening enlightenment science. Clear, dynamic and modern in approach, Nithyananda's teachings have already transformed 15 million followers in 150 countries with the fastest growing spiritual community around the youngest incarnation.
Paramahamsa Nithyananda remains always grateful to the spiritual masters and the rich spiritual heritage of India which made it possible for him to learn and practice these timeless spiritual truths. Wishing to share his spiritual understanding with others and dedicate his life to the service of humanity, he entered into the public life and set up his spiritual organization, to reveal to the world, the science and benefits of our ancient mystical yogic tradition and disciplines.