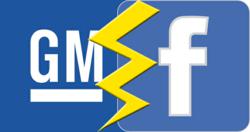 Considering the user volume size of Facebook and it's monthly traffic count this appears to be a statement made out of context. This kind of negative media around Facebook and it's advertising returns is good for business owners.
(PRWEB) July 07, 2012
Just two days before Facebook's IPO General Motors (GM) announced they would be pulling it's $10 million advertising from the social network. At that time this was a significant announcement as it was 5% of Facebook's 2012 revenues.
In an article the Wall Street Journal explained that GM had began evaluating their Facebook strategy earlier in the year and marketing executives within the company were questioning the return on investment.
Now while this removal of spending was a shock, it's important to note that GM was only removing their advertising spend not their actual free Facebook presence. As it stands, GM currently invest around $40 Million a year on maintaining their Facebook presence and engaging their consumers.
Analysts at the time stated that the timing of the withdrawal was a little odd, while other bloggers went on to post that they believed GM would re-initiate their campaign. It appears that these bloggers were correct with the Globe and Mail reporting in an interview with Jeff Greenspoon GM is in talks to re-engage it's advertising budget.
Jeff Greenspoon who is the CEO of Spoke Agency said in the interview that GM had pulled their advertising as they could not see a direct correlation between advertising spend and car sales. In the interview Mr Greenspoon stated this was weird considering Facebook is one of the best platforms for providing advertiser analytics.
With this announcement just starting to circulate across the internet news media over the next coming days, there is no doubt going to be speculation around the timing of the GM announcement. Questions will be asked around whether there were other alternative reasons behind why the announcement was made so close to the IPO.
Facebook's IPO started off dismally with investors taking to the courts to seek compensation for it's poor start. The announcement of GM returning to Facebook and resuming their advertising spends could help investors and see the share price rise.
The timing couldn't be better for Facebook with more and more analysts starting to question the return on investment. In fact in one article on ZDnet Eileen Brown states that 80% of advertisers are now saying Facebook is less important than the rest of the web.
Samuel Junghenn from Think Big Online Said "Considering the user volume size of Facebook and it's monthly traffic count this appears to be a statement made out of context. This kind of negative media around Facebook and it's advertising returns is good for business owners. Considering that the advertising market on Facebook is competitive based pricing, the less competitors the better the pricing."