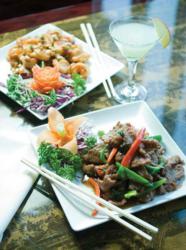 Salt Lake City, UT (PRWEB) July 05, 2012
Every restaurant owner knows the old marketing adage, "word of mouth is the best way to advertise," but when it comes to getting customers to talk about their food, there isn't exactly an easy-to-follow recipe.
Jordan Wong, co-owner of the award-winning J Wong's Asian Bistro in downtown Salt Lake City, naturally recognized the need to generate local buzz surrounding his signature Thai/Chinese cuisine, but like most restaurant owners, assumed serving up excellent food at the lowest possible price seemed like the only way to go about it.
From a personal contact he learned about redKonnect's word of mouth marketing platform, which incentivizes social media users to post about their favorite local restaurants using their Facebook and Twitter accounts.
Instead of hoping his customers would remember to bring up his restaurant in casual conversations, J Wong's redKonnect campaign would give each customer a reason to sit down immediately and share a personalized endorsement with hundreds of their friends and followers.
So, after purchasing credit on redKonnect, Jordan uploaded a few pictures of his most enticing entrees, and alerted his Facebook fans that there was a way they could get paid to tell their friends about his restaurant. He also posted an exclusive offer for free egg rolls and cheese wontons redeemable only by redKonnect users to thank them for helping build his business.
As fans of the restaurant began pollinating Facebook and Twitter with endorsements of J Wong's food and service, the impact was startling. In just a few days, J Wong's received more than 50 branded, friend-to-friend endorsements on Facebook and Twitter, which collectively generated more than 300 clicks to the restaurant's Facebook page. Only time will tell what profits the thousands of branded impressions this redKonnect campaign will drive to J Wong's in the coming weeks and months.
Beyond J Wong's' social media presence, the restaurant's site is ranking better on various Google keywords, thanks to social signals generated by his campaign. Now, when people search for J Wong's on Bing, they're able to see several personal endorsements of J Wong's from their friends right next to their search results.
Without a doubt, Jordan will still need to be actively involved in establishing favorable partnerships in Salt Lake City, but with redKonnect, he's found a simple, go-to way to incentivize brand advocacy and automate social engagement.
In a study conducted by social networking site myYearbook, 81 percent of respondents said they'd received advice from friends and followers relating to a product purchase through a social site.
redKonnect allows restaurants owners to do more than wait for their loyal customers to mention them to friends and associates. Rather, it provides direct incentives for customers to share about their dining experience. Since redKonnect pays social media users just for posting, as well as for every click their posts generate, now, for the customers of any restaurant using redKonnect, there is such a thing as a free lunch.