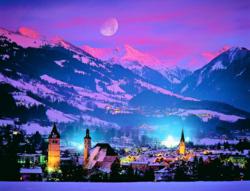 (PRWEB UK) 5 July 2012
Kitzbühel, one of Austria's and Europe's top ski resorts is set to benefit from two new high speed chairlifts as part of the upgrades. Crystal Ski, who offer ski holidays to the resort, have learnt that the 26 million Euro upgrades include the new 'Walde' and 'Steinbergkogel' lifts will not only whisk skiers up the mountain faster, they will also provide greater comfort thanks to the heated seats and weather hoods.
The 'Walde' is a high speed six-seater chairlift replacing a 51-year-old T-bar-lift. The new lift from manufacturer Leitner will be able to carry 2100 people per hour the 473m distance. The new replacement lift will give much better access from the top of the popular Hahnenkamm gondola to the rest of the ski area.
The second new chair lift, the 'Steinbergkogel' also replaces a previously existing lift. The current 35-year-old slow moving lift only carries two people per chair at the moment, but is being updated with a high speed eight-seater chair with heated seats. The new 'Steinbergkogel' lift will transport skiers and boarders 1309m in distance, up a rise of 523m, serving several black runs.
Eight-seat chair lifts are still relatively new; around 50 resorts have installed them since the first in the small Norwegian resort of Vrådal in 1998. The modernisations will make Kitzbühel one of just three ski areas in the world to operate three or more of these high capacity chairlifts, the others being Mayrhofen resort and the Silvretta ski area.
As well as chairlifts, Kitzbühel Bergbahn are also investing in snow-making technology, now with 780 snow guns in operation for the 2013 winter season.
Holidays to Austrian ski resorts such as the world-class Kitzbühel can be found on the Crystal Ski website. Ski holidays to top French ski resorts as well as packages to Italian ski resorts can be purchased for the 2013 season through the Crystal Ski website now.