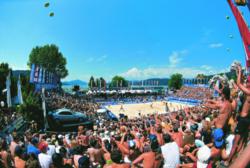 (PRWEB UK) 6 July 2012
Crystal Ski, who offer holidays to the Austrian resort, have learnt that Lake Wörthersee has been selected to host the 2012 Beach Volleyball World Tour. The area is known for its warm and sunny Mediterranean climate – similar to that of Lake Garda in Italy. The lake's clear turquoise waters are surrounded by lush green hills and forests. The towns of Pörtschach and Velden sit on Wörthersee's shoreline in beautiful settings. Activities in the area include lakeside walks, mountain hiking, and golf. On the water there is a range of water-sports including water skiing, wake boarding, windsurfing, diving, and sailing.
Beach Volleyball is a relatively new sport, having been played since around 1915, and becoming an Olympic sport at Atlanta 1996. The sport's popularity has since taken off and beach volleyball is expected to prove popular at this year's London 2012 games.
The 2012 World Tour tournament will be played in the lakeside city of Klagenfurt. Having been hosted here for the past 15 years straight, the championship tournament was awarded "best Austrian sports event" in 2011 and the FIVB (The Fédération Internationale de Volleyball) president described the tournament as the "best World Championship ever". The excitement continues in to the night as parties continue late in to the night. At locations around the lake events are organised for each evening during the tournament. Thursday night's DocLX Stars & Players Party is followed by the "Beach Party" close to where the beach volleyball matches are played close to the university. Twice a week throughout the summertime there is also a magnificent display of water, music and lasers over the lake in the striking Klangwelle show.
For summer holidays to Lake Wörthersee visit the Crystal Summer website. Crystal Summer offer a range of breaks to beach, lake, and mountain destinations around Europe, including Austria and Lake Garda holidays. A wide range of activity breaks, including walking, cycling, and golf holidays, are also offered.