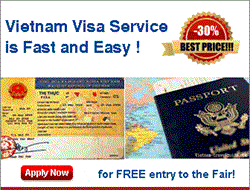 To support the growing number of customers traveling to Vietnam, Vietnamvisa.org.uk introduces Vietnam visa service with the best quality
(PRWEB) July 06, 2012
People living in UK need to obtain a Vietnam visa if they want to visit Vietnam. There are three types of visa including tourist visas, diplomatic and official visas and business visas. And they can get Vietnam visa by applying online or applying directly at Vietnam Embassy in UK. To support the growing number of customers traveling to Vietnam, Vietnamvisa.org.uk introduces Vietnam visa service with the best quality.
Acting as the leading website providing visa information for both domestic and international customers, the website launched two options for customers when they have demands. They can apply in person at Vietnam embassy or apply online. As for applying online, the procedure is simple and free. Getting visa on arrival is now the most effective and easiest way for residents to obtain a visa.
Especially, those who want to apply visa offline can browse the information posted right at the homepage or pay a visit to Vietnamvisa.org.uk/embassy.html to get more details. All of the information relating to Vietnam embassy is available for help. Customers have to apply directly at the embassy of Vietnam as early as six months prior to the date of travel. The procedure is offered in details so that they are sure to have no difficulties in getting visas. In particular, there are mostly four main steps. Firstly, an original passport is required at least 01 month validity prior the date of exit from Vietnam. Secondly, an application form with such requirements as original photo and additional processing fees is necessary. Thirdly, visa payment is compulsory in certain forms. Last but not least, customers have to present a prepaid return envelope. Have access to the website to get more details about the above procedure.
Apart from such visa information, the website has widened to provide customers with a lot of useful and updated news.