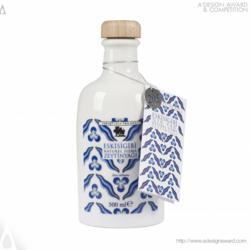 Como, Italy (PRWEB) July 06, 2012
A' Award and Competitions are proud to see that the design Çig Yag by Taris Zeytin won the famous Silver A' Design Award at Packaging Design Competition highlighted as a winner by the esteemed judging committee of the A' Design Awards & Competitions within thousands of participants.
Details of Çig Yag
Taris Zeytin Design Team, the creator of the winning project Cig Yag demonstrates "Taris revolutionizes olive oil packing via introducing this product in a porcelain bottle, which is a long-lasting and hygienic storage container for olive oil. The design on the bottle, Çintemani, is a traditional Turkish figure, symbolizes vigour and strength. Çintemani, on this special bottle, depicts the ultimate domination and absolute rule of the olive tree in nature. Çig Yag is only available in limited quantity each harvesting season. Every single bottle of this limited production is numbered with a unique metal plate. Çig Yag is sold in a special box, designed for the product. " Learn more at: http://www.adesignaward.com/design.php?ID=25325
The Silver A' Design Award
The Silver A' Design Award is a prestigious award given to top 5% percentile designs that has delivered an exemplary level of quality in design. The designs are judged by a panel of three different jury which is composed of Academic, Professional and Focus Group Members. The designs are evaluated with score normalization to remove any biases and are voted on aspects such as functionality, ergonomics, engineering, presentation, innovation, usability, fun details, technology, and any other specific points that could be considered, each of these points are further weighted for different jury groups.
About A' Design Award and Competitions
A'Design Award and Competitions, aims to highlight the excellent qualifications of best designs, design concepts and design oriented products. A' Design Award and Competitions are organized and awarded annually and internationally in multiple categories to reach a wide, design-oriented audience. To learn more visit: http://www.whatisadesignaward.com