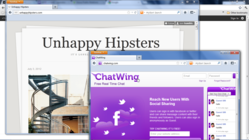 Salt Lake City, UT (PRWEB) July 07, 2012
Hipster, today, is more than just any word—it is a growing trend in the Internet. This fact is based on the numbers of blogs and websites created for the hipster ideology, manner, and culture. The Chatwing dev team is always observant regarding this fact, leading to the creation of a shoutbox that can help hipster bloggers in Tumblr gain the visibility they need. The Chatwing chat tool has also been introduced in other blogging communities such as Wordpress and Posterous. Many bloggers have relied on Chatwing's user-friendly system and high rate of global connection.
One of the strongest features that granted the top spot for Chatwing is its social media integration. Through this, Chatwing users can now log in with their Facebook or Twitter accounts, allowing greater social network expansion. This feature has also helped a lot of Facebook marketers and those who create Facebook groups as well. Hipster bloggers can take advantage of the Chatwing shout box and use it to promote their blogs and Facebook pages well. They can also post links to their Instagram posts freely.
The Chatwing web chat tool has a current user capacity of 600. However, the dev team is planning to extend it to 1000. In this way, many people will be able to enjoy the benefits of global connectivity. The team will also pursue various backend upgrades to ensure that the chat box will maintain its great connection speed.
Chatwing is always dedicated to the full empowerment of the premise of website chat. The dev team will continue their expansion to other online communities, helping many people gain the communication leverage they deserve. The team has also projected that the niche of hipster blogging will improve with the help of the Chatwing global chat tool.
About Chatwing.com
Chatwing.com has developed live chat software for websites and blogs. It caters to different online communities due to its high rate of connectivity. Everyone can create a customizable live chat box feature in 1 minute or less. Users have the ability to customize the size, color, and fonts of the chat product. The ability to chat via social media accounts such as Facebook and Twitter enable Chatwing to offer a personal and unique real-time experience to all sites. Chatwing is 100% free and very easy to use.