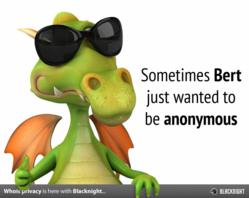 We are strong believers in our customer's right to freedom of expression.
Carlow,Ireland (PRWEB) July 06, 2012
Leading Irish registrar and hosting company Blacknight (http://www.blacknight.com) are pleased to announce the inclusion of a new WHOIS Privacy service to their suite of outstanding products.
WHOIS Privacy is a service that can be added to a domain registration to protect the identity and personal information of the domain registrant. For instance, when an individual searches for the WHOIS information on a domain name, the name of the registrant along with address and phone number are available on that record. By electing to use the WHOIS Privacy service, that information is no longer publicly available.
Security has always been a top priority for Blacknight, which elected to offer WHOIS Privacy services to give their customers an extra layer of protection. Michele Neylon of Blacknight states: "We have been planning to offer a WHOIS Privacy service for some time. We have seen the demand for the service grow, as individuals want to be able to register domain names without publishing their personal data to WHOIS. We are very pleased to be able to provide this extra level of security to our customers."
The WHOIS Privacy service is provided by WHOIS Privacy LTD, a wholly owned subsidiary of Blacknight. WHOIS Privacy will initially only be available for .COM and .NET domains but will continue to roll out for additional extensions that support it.
Blacknight is very conscious of the controversial nature of WHOIS Privacy services, and the ICANN accredited registrar has taken bold measures in the Terms of Use agreement to protect against issues of abuse. Neylon explains: "We are strong believers in our customer's right to freedom of expression. However we are very conscious of abuse to such a system and the terms of service provided are very stringent. Basically, if you think you can use our WHOIS privacy service just to register domains and abuse them, the service will be terminated quickly."
The standard retail price of the WHOIS Privacy service will be €8.99 per domain per year, however, Blacknight will be running an introductory offer at €4.99 per domain per year.
Please visit http://www.blacknight.com for more information on WHOIS Privacy services.
About Blacknight:
Blacknight are an Irish based, ICANN accredited domain registrar and hosting company. Recipients of several awards for their revolutionary use of social media, Blacknight are one of Europe's most cutting edge Internet companies. Blacknight constantly seek to lead the way by introducing innovative solutions for its client base and provide dedicated servers and colocation as well as a comprehensive range of Microsoft Windows and Linux based hosting plans and domain name registration services to business globally.