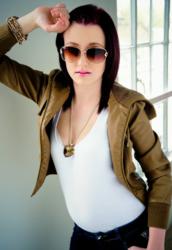 A portfolio is essential for any model to promote themselves
London, UK, 6th July 2012 (PRWEB UK) 6 July 2012
A petite blonde, with blue eyes and standing at just 5 foot four, 17 year old Ruby can stand loud and proud, learning to model.
Inspired by women with huge voices, Ruby uses her own song writing to express her thoughts and feelings. Having recently taken up modelling, she draws a great deal of inspiration from strong female role models.
'I am inspired by Adele and Amy Whitehouse and also Helen Mirren,' she says. When asked why she became a model Ruby commented, ' I have never been fully confident with myself. Modelling made me feel beautiful and strong, it made me feel accepted by everyone I worked with and that was such a great feeling.'
http://www.lamodelondon.com believes that a model needs to be as versatile as they can, and if they are able to transform their looks and become somebody else in an instant, then their face will be remembered. Having other talent is also beneficial in case the modelling doesn't work out and they certainly admire Ruby for her musical talent and acting abilities.
'Ruby was an absolute star on the day,' explains Helen Smith, director for La Mode London. She is a total natural in front of the camera, and after a little bit of warming up, she soon felt at ease in front of the photographers, beauty stylists and make up experts who are all there to help any model get into the groove.'
Helen explains how the commercial photography company in the heart of modelling London experienced hundreds of models, actors and musical artists through their doors each month, and an aspiring model really get a taste of what life in the fast lane is all about. Their dedicated photo shoot days are tailored to make any model feel pampered and preened, surrounded by beauty experts who can transform the end result into any look they want to do. The result is an individually made professional modelling portfolio and accompanying website, which shows off their photographs and poses in various different outfits taken on the day.
'A modelling portfolio is essential for any model to promote themselves in very difficult times,' says Helen. 'It is the best way for any model or actor for that matter, to be able to have something online, which is accessible at the click of a mouse for any potential employer to see.' Giving ongoing model advice, La Mode London are a shoulder to cry on, but also a valuable source of model information for those who are new to the business.
Their latest model signing has other aspirations and in her free time, Ruby likes to act as well as undertaking her singer song writing work. Up to now, modelling has simply been a hobby for her, but she hopes to take it on in a more professional way. Available for all types of modelling, and is willing to try her hand at anything to see which type of modelling job will suit her best.
Not shy about performing in front of others, she enjoys singing and having fun with her friends and family and also visiting the gym whenever she has the time. She understands how important it is for a model to keep fit and look after their figure and can see the benefits of getting into a routine of exercise if she is going to undertake modelling in the long term.
'Adele and Amy Winehouse, their voices blow me away, they are original, beautiful women. Helen Mirren, every film she's in is a great one and I admire how long she's acted and worked hard in her successful occupation.'
Visit Ruby's portfolio along with all of La Mode's latest model signings at http://www.lamodelondon.com