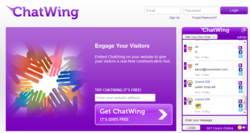 San Francisco, CA (PRWEB) July 07, 2012
Product selling in the Tumblr blogging community will now become easier with the help of the Chatwing chat box. This is based on the visibility that was offered by Chatwing chat tool on various communities such as Wordpress, Posterous, and Lefora—to name a few. The Chatwing tool has also been known for its ease of access and user-friendly mechanism. It is also versatile and can be installed to various blogs and websites. Some bloggers have even referred to it as the 'shoutbox of the new age.'
The versatility of Chatwing has contributed a large percentage to its overall online rank. In a Chatwing shoutbox, users can talk about hundreds and thousands of topics. Most users talk about the contents of the host blog, while a small percentage promotes links and posts questions. This is essential for product sellers in terms of online marketing. Product sellers can now discuss about their products and even expand their client reach in the long run. Additionally, the Chatwing shout box can also accommodate up to 600 users in real time. The dev team, however, is planning to upgrade it to 1000.
Few months ago, the Chatwing team has branched out to product sellers in the Wordpress community. The Chatwing tool received mostly positive reviews, yet the developers still worked hard to maintain the stability of the chat platform. The team is still branching out to other online communities to further help more bloggers and web surfers. The Chatwing chat widget also promises easy installation mechanism for all of its users. The average installation process of a Chatwing widget takes only few seconds. Adding to that, the widget has a high rate of customization, so that people can sync their blogs properly.
Chatwing is all about website chat and its global empowerment. The Chatwing development team remains true to this goal by tweaking the chat tool and making it a better application for bloggers and web surfers. The team is also maintaining a blog and Facebook page to keep the users well-informed.
About Chatwing.com
Chatwing.com has developed live chat software for websites and blogs. It caters to different online communities due to its high rate of connectivity. Everyone can create a customizable live chat box feature in 1 minute or less. Users have the ability to customize the size, color, and fonts of the chat product. The ability to chat live via social media accounts such as Facebook and Twitter enable Chatwing to offer a personal and unique real-time experience to all sites. Chatwing is 100% free and very easy to use.