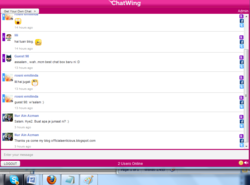 Seattle, WA (PRWEB) July 08, 2012
Podcasting while chatting with many people has been one of the strong ideas of the developers of Chatwing. This business model led the developers to launch the Chatwing chat box—a simple yet versatile application that can reach hundreds and thousands of people worldwide. The Chatwing tool has also been introduced in various blogging communities, such as Tumblr, Wordpress, Myspace, and Posterous. Because the Chatwing tool is versatile, users can discuss about many topics such as technology, blogging, trends, current events, music interests, and even fashion news.
Podcast listeners will now be able to explore their music well by utilizing the communication leverage offered by the Chatwing shoutbox. The Chatwing chat tool can also accommodate up to 600 users, so the potential for communication is really high. In the future, the Chatwing team is planning to buff up the user capacity to 1000. In this way, Chatwing can help many bloggers and web surfers. The Chatwing team has also noted that Podcast bloggers that used the shout box gained massive spikes in visibility. The percentage varies depending on the music interests of the users, or the latest uploaded audio file.
The Chatwing team is also planning to create other backend developments in order to make the web chat tool more efficient. The developers believe that true progress in the Internet can be achieved by abiding to the needs of the people. Additionally, the Chatwing team will also expand in social networking sites such as Facebook and Twitter.
Aside from podcasting, the Chatwing team plans to bring improvement to other notable communities as well. Through this, many people will have a rewarding website chat experience. To keep users well-informed, the team will also maintain a blog and Facebook page filled with informational content.
About Chatwing.com
Chatwing.com has developed live chat software for websites and blogs. It caters to different online communities due to its high rate of connectivity. Everyone can create a customizable live chat box feature in 1 minute or less. Users have the ability to customize the size, color, and fonts of the chat product. The ability to chat via social media accounts such as Facebook and Twitter enable Chatwing to offer a personal and unique real-time experience to all sites. Chatwing is 100% free and very easy to use.