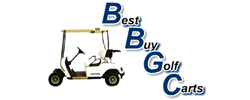 When purchasing a cart, we would advise trying to buy one with either new batteries or batteries that are less than 2 years old
Greenn Cove Spirngs, FL (PRWEB) July 05, 2012
Best Buy Golf Carts, a supplier of golf carts, golf cart parts, and accessories, has been serving the Green Cove Springs, FL area for some time now. Over the years, the company has noticed that many consumers aren't sure what to look for in a golf cart. And sadly, many are taken advantage of in purchasing a golf cart which appeared to be a good deal but turned out to be a money pit repair hog! Because of this the company has put together a list of important considerations when shopping for golf carts to help consumers make more educated choices.
According to Best Buy Golf Carts, the first factor consumers should look for when shopping for a new or used golf cart is the serial number. All golf carts have a serial number identifying the cart, and it should be prominently displayed. The serial number traces a golf cart's origin, and buyers should be able to tell if their prospective cart has come from a flooded hurricane area, for instance. Also, the serial number will identify the cart's year model.
A golf cart with a removed or hidden serial number should be avoided. Over the years, Best Buy Golf Carts has learned that vendors selling carts with removed or obscured serial numbers are often trying to mislead the buyer.
Next, the buyer should take a look at the golf cart's batteries. Depending on the cart model, there may be anywhere from 4 to 10 batteries. Changing the batteries in a golf cart is one of the most expensive repairs to make. "When purchasing a cart, we would advise trying to buy one with either new batteries or batteries that are less than 2 years old," states Michael Rosenbarker of Best Buy Golf Carts.
Battery fluid should look clean and clear. Best Buy Golf Carts suggests checking that fluid levels are adequate before purchase. For maintenance, golf cart owners should check fluid levels every 30 days. Unless otherwise indicated, owners should fill battery cells with distilled water only, and stop adding water when the level reaches just under the inner indicator ring. You can read the complete list on the company's website: http://www.BestBuyGolfCarts.com
About the company:
Best Buy Golf Carts has been in business in the Jacksonville area and Green Cove Springs since 1976 and supplies golf cart parts and accessories throughout the United States. Specializing in resolving golf cart electrical issues, Best Buy Golf Carts also sells new and pre-owned golf carts, golf cart parts and accessories, and builds customized carts. They are the areas only authorized Trojan & Powertron, USI battery dealer and they are a authorized Nivel and EZGO Dealer. Visit their large show room to view pre-owned, new and custom golf carts and their stocked parts room with some of the lowest prices on golf cart parts and golf cart accessories. For more information visit their website at http://www.BestBuyGolfCarts.com.