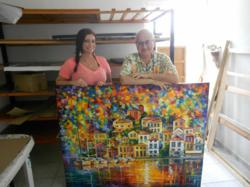 Of course I was nervous, but what made me more nervous was to possibly miss this opportunity and regret it for the rest of my life.
Orlando, Florida (PRWEB) July 05, 2012
Jessilyn Park recently picked up the paintbrush for the first time in December 2011 after a visit with her grandmother. Her grandmother was once a prolific painter, but had to quit some years ago because she lost her eyesight. After a visit and a conversation about painting and art, Jessi decided she wanted to give it a whirl.
What she discovered was beyond her wildest dreams. Not only could she paint, but she could paint with extreme dexterity, richness and vivacity. It seemed as though her grandmother's talent had somehow shifted to her. She had never been artistic, never even sketched anything out. As far as she knew, her capabilities in art consisted of stick figures. (Watch this YouTube video of her speed painting.)
She desperately wanted to research this new talent and hone it while it was still within her. Her grandmother was an expert at the palette knife but since she wasn't able to teach her, Jessi sought out artists that were known for the palette knife. After perusing the internet, she saw something that, in her own words, "touched her soul".
She ran across a YouTube video of works by a masterful Russian born painter, Leonid Afremov. After numerous emails she arranged an apprenticeship with him in Mexico, where he resides with his family.
Despite everyone telling her how dangerous it was and sending her news articles and links to clips online about horrific incidences involving Americans, she went anyways. She faced her fears and boarded a plane and flew to Mexico alone to train with someone she only knew from online. "Of course I was nervous, but what made me more nervous was to possibly miss the opportunity and regret it for the rest of my life", Jessi says. "I had a wonderful time, Leonid and his family were gracious hosts. I learned to paint beautiful paintings that touched my soul just like his initially did. It was a very spiritual journey to me. My very own, Eat Pray Love if you will."
Since coming back from Mexico so many doors have opened for her. As a budding artist, she has already sold numerous paintings, been featured in a number of galleries, been commissioned for a special piece for a high profile law firm in Orlando, been featured on the cover and given a 2-page spread in the middle of Citywide Arts Magazine, and recently has been selected to be one of 16 finalists in Artiste Wine Label competition. A national competition that attracts the submission of hundreds of artists. If selected as the winner, she will be flying to California to see her label on hundreds of wine bottles. To vote for her, click here and select her painting, "Alone Time" featured on the right.
Don't ever be afraid to follow your dreams. As Oprah Winfrey said, "I believe that one of life's greatest risks is never daring to risk."