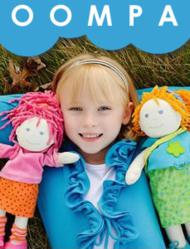 Oompa's new look offers customers an intuitive online shopping experience for those searching for quality toys that teach.
ARLINGTON HEIGHTS, IL (PRWEB) July 06, 2012
Oompa Toys, the online leader in the specialty European and baby toys market for over 8 years, is proud to announce the new website design of Oompa.com. The company, a perennial member on Internet Retailer's Top 1000 list, has overhauled its website through Upshot Commerce to create a streamlined, engaging and informative experience for customers as they peruse a well-edited line of beautiful products for babies and children.
With a keen eye for artful design and fine craftsmanship, the new owners, Sandra Gunthorpe and Susan Klieman, have traveled throughout North America, Europe, and Asia to personally select each and every product available on the website. Over the course of the past six years, they have developed close relationships with a collection of well-vetted manufacturers to ensure that Oompa has the safest and best product line in the industry.
Showcasing functional, superbly crafted, and visually appealing toys, Oompa's fresh new site features striking photography, informative product descriptions, fun videos, a plethora of customer-written reviews, and a full range of interactive social media -- all the tools necessary for customers to make informed buying decisions. Navigation has been reconfigured to include the much sought-after ability to find toys by country of origin as well as by popular categories such as organic, fair trade, sustainable, award winning, and top rated toys. The new, simplified FunBuxx loyalty program automatically rewards 'FunBuxx Dollars' to registered customers for each purchase and/or customer-written product review. FunBuxx Dollars spend like cash on Oompa.com and can be redeemed for up to six months.
Oompa's sleek new website coupled with a meticulous selection of modern, sustainably-produced, and well-made toys will secure Oompa's place as the internet's leading source for specialty toys.
Oompa.com is a women-owned Pennsylvania corporation with offices in Carlisle, PA and Arlington Heights, IL.