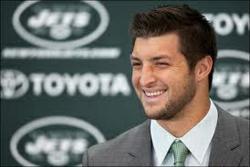 Pittsburgh PA (PRWEB) July 05, 2012
New York Jets tickets are becoming even more appealing ever since Denver traded Tim Tebow and their 7th round pick to the Jets for their 4th and 6th round picks. This is especially helpful after 3 straight Jets losses at the end of the 2011 season, putting them at a dismal 8-8 record. However, instead of Tebow, Mark Sanchez is likely to be starting for the Jets, which leaves many fans reeling over the burning question as to why the team put so much effort into getting Tebow in the first place.
At any rate, the NFL Draft in April showed the Jets making spectacular picks that make 2012 Jets tickets much more worth obtaining. In the first round, the Jets didn't even have to make any trades to get their hands on the exciting defensive end Quinton Coples of UNC. Even though his motivation has been questioned, he's quite athletic, with highly regarded pass-rushing abilities.
Other great picks were wide receiver Stephen Hill and linebacker Demario Davis, who were picked up in the second and third rounds, respectively. With Rex Ryan's personable and open coaching approach, Hill could be starter material, while Davis is considered to be a versatile linebacker and a simply spectacular defensive player. Fans are already buying New York Jets tickets to see how well Davis works with Ryan's unpredictable, yet stellar, defensive strategies.
A desperately needed pick at safety, Josh Bush should help patch things up on that end of the ball. Fans buying Jets tickets are holding their breath for Bush to replace Eric Smith, who was notoriously known for failing to cover tight ends last season. For instance, the week 10 game against the Patriots showcased Smith's failure to perform, allowing Rob Gronkowski to catch 8 passes for 113 yards and make two touchdowns.
Headline Tickets Now is one of the most popular secondary ticket websites on the Internet. They have affordable sports, theater, and concert tickets across the United States and Canada, all without service fees. Headline Tickets Now is an accredited business with the Better Business Bureau (BBB) of Western Pennsylvania.
Please use discount code "NFL2012" for 2 Percent off the already lowest ticket prices on the secondary ticket exchange. Only Headline Tickets Now offers discount codes and low prices. Please compare to other ticket website.