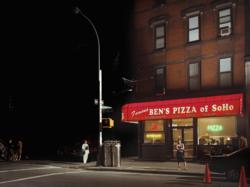 All the show's artists exploit their medium's lingering power to deceive, presenting what appear at first glance to be cold cuts of objectivity that proceed to reveal themselves as more problematic. —Michael Wilson
New York, NY (PRWEB) July 05, 2012
School of Visual Arts (SVA) presents "Myths & Realities" an exhibition that brings together 16 notable alumni who create powerful visual narratives that reflect a shared interest in exploring the porous boundary between actuality and illusion and in deconstructing the innate strangeness of the everyday. The artists in the exhibition engage two centuries of popular culture, from archaic formats like the pinhole camera and daguerreotype to the museum diorama and wide-screen Hollywood film with resulting works that are potent reminders of how images can reshape perceived reality. Co-curated by New York Times Magazine Director of Photography Kathy Ryan and VII Magazine Editor Scott Thode, "Myths & Realities" will be on view at the Visual Arts Gallery, 601 West 26 Street, 15th floor, New York City, from August 29 - September 29, 2012.
Participating artists include Brendan Austin, Kevin Cooley, Debbie Grossman, Sean Hemmerle, Ina Jang, Simen Johan, Noah Kalina, Mark Kessell, Justine Kurland, Dinh Q. Lê, Jeff Chien-Hsing Liao, Vera Lutter, Domingo Milella, Matthew Pillsbury, Aïda Ruilova and Collier Schorr.
While some of the artists in "Myths and Realities" consciously twist reality, others employ a heightened realism through which images transcend their times and places of origin. Commenting on the through line between them Ryan says, "They make careful decisions about just how far to go with their playfulness and with their reinvention of the real."
The language of film serves as a touchstone for several of the artists in the exhibition who explore the mythic iconography of cinema. Dinh Q. Lê (MFA 1992 Photography, Video and Related Media) revisits mass-entertainment accounts of the Vietnam War like Apocalypse Now and Full Metal Jacket in a video of American military helicopters crashing into the South China Sea. Drawing on the type of visual staging typical of large-budget filmmaking, Sean Hemmerle (MFA 1997 Photography, Video and Related Media) takes us inside the general staff meeting of United States Central Command in Tampa, Florida in a scene that is reminiscent of Stanley Kubrick's landmark film Dr. Strangelove but happens to be real. Matthew Pillsbury (MFA 2004 Photography, Video and Related Media) captures spaces both public and private bathed in the light of screens and monitors using extended exposures, some as long as a feature film. In his lush color shots recording the environs of movie sets, Kevin Cooley (MFA 2000 Photography, Video and Related Media) imbues his atmospheric, incongruously spot lit scenes with an almost supernatural feel that destabilizes our overall understanding of the site—is it an image of a model, a digital simulation or even a painting?
Several of the artists in the exhibition reflect on the natural and built environment. Whether the locale is the Muslim cemetery in Monastir, Tunisia, or the ancient trees in Methuselah Grove, California, Domingo Milella (BFA 2005 Photography) explores the layers of history in his work. Jeff Chien-Hsing Liao (MFA 2005 Photography, Video and Related Media) creates views of the Flatiron Building, Coney Island and other New York City landmarks that elude the naked eye by layering up to 200 exposures to produce a single photograph. Drawing on the conventions of taxidermy museum displays, the animals in Simen Johan's (BFA 1996 Photography) series Until the Kingdom Comes are placed in unexpected poses in outdoor environments. In Brendan Austin's (MPS Digital Photography 2008) photographs, intricate paper constructions stand in for the mountain ranges and rock formations of the American West. Vera Lutter (MFA 1995 Photography, Video and Related Media) uses pinhole photography to produce unique gelatin silver prints of industrial sites like the decommissioned Battersea Power Station in London. Seen in stark, black-and-white negative images, once-familiar monumental edifices could pass for the ruins of a past civilization or colonies on another planet.
Many of the works in "Myths & Realities" remind viewers of the subjectivity of narratives, offering fantasies shaped from both documented and invented realities. In her series My Pie Town, Debbie Grossman (MFA 2010 Photography, Video and Related Media) reinterprets images of Depression era homesteaders by creating a world inhabited exclusively by women. A rural American setting also appears in the photographs of Justine Kurland (BFA Photography 1996) featuring nude women and children, including her son, Caspar. Collier Schorr (BFA 1985 Photography) revisits Andrew Wyeth's landmark portrait series, The Helga Pictures, with a young boy, Jens F. In another study of youth and aging, Noah Kalina's (BFA Photography 2006) video Everyday documents the artist's changing appearance with daily self-portraits made over 11 years. Through the use of paper cut-outs Ina Jang (BFA 2010 Photography) edits her pictures, creating mysterious, stylized images that deconstruct the coded language of fashion. Aida Ruïlova (MFA 1999 Photography, Video and Related Media) challenges expectations of definitive narratives in her 2005 video Life Like, where a fallen patriarch is at the center of various rituals enacted by young women in a French castle. Mark Kessell (MFA 2000 Photography, Video and Related Media), formerly a practicing physician, uses daguerreotype printing to document the exact moment of childbirth.
The exhibition will be accompanied by a full-color catalog with essay by independent critic Michael Wilson, former editor at Art in America and Artforum and contributor to Art Monthly, Contemporary and Modern Painters, among other publications.
The Visual Arts Gallery, located at 601 West 26 Street between 11th and 12th Avenues, 15th floor, is open Monday through Saturday, 10am to 6pm; closed on Sundays and public holidays. Admission is free. The gallery is accessible by wheelchair. For further information call 212.592.2145.
School of Visual Arts (SVA) in New York City is an established leader and innovator in the education of artists. From its inception in 1947, the faculty has been comprised of professionals working in the arts and art-related fields. SVA provides an environment that nurtures creativity, inventiveness and experimentation, enabling students to develop a strong sense of identity and a clear direction of purpose.
Media Contacts: For more information, please contact Keri Murawski at 212.592.2164 or kmurawski(at)sva(dot)edu or Michael Grant at 212.592.2011or mgrant(at)sva(dot)edu.