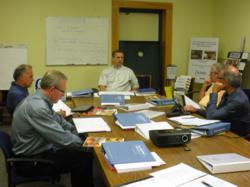 Chapel Hill, NC (PRWEB) July 07, 2012
This new service evolved from the first SEN Online Business Development Roundtable launched last year, and it is facilitated by Head Business Coach, John Lang LPBC.
After bonding together with bi-weekly teleconferences for a number of months, these half dozen SEN members decided to start visiting each other's operations. That way, they could see firsthand how a colleague's showroom was set up, how the business was organized and run, what caliber of individual filled each staff position, and how the financial statements reflected staff and management performance. Most of all, they could then offer the best advice of how to improve that company's performance and, going forward, hold the owner accountable for changes he commits to making.
Don Jessup of Lansing, MI offered to host the first critique session and allow his business to be scrutinized under the penetrating eyes of his colleagues. The experience turned out to be a positive one for Jessup who said: "I had the opportunity to show my business to 5 great businessmen and engage them to recommend ways to improve my business. I also received great (maybe stern) encouragement to raise my pricing to get more in line with other SEN businesses."
To be sure, Jessup (and his business) was the focus of attention at this initial meeting. But he was not the only beneficiary. All the participants gained a greater understanding of how a different business model from their own can be successful, what parts of that model could be applied to their own operations, and what advice offered about Jessup's business could also positively impact their own. Summarizing his experience, Dan Luck of Madison, WI commented: "Spending extended time with a group of kitchen and bath dealers that engaged in conversation much deeper than surface chatter is very valuable. The nuggets gleaned and the experiences shared were priceless!"
For more information, please read a blog entitled "The Best Way To Learn Is To Teach" by clicking on this link: http://sendesigngroup.com/sen-design-blog/. Or contact Ken Peterson CKD at 1-800-991-1711 or kpeterson(at)sendesign(dot)com.
About the SEN Design Group:
Headquartered in Chapel Hill, NC as the industry's first buying and business development group, the SEN Design Group counts 225 independent kitchen/bath firms from coast-to-coast as members. These members enjoy deeper discounts and volume rebates from 75+ vendors in cabinetry, countertops, appliances, plumbing fixtures, lighting, flooring, tile, bath products, accessories, and business services that are affiliated with the group. They also receive business management training, networking opportunities, automated management system and have access to business coaching services, showroom design services, peer counseling at roundtables, financial comparison reports, sales training, and marketing tools that all help to furnish superior customer service while bettering their bottom lines.