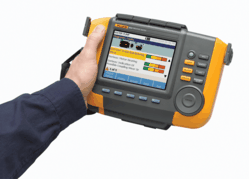 Vernon Hills, IL (PRWEB) July 05, 2012
Only available from select suppliers. With the new Fluke 810 Vibration Testing System from Davis Instruments, operators can analyze motors, fans and blowers, belts and chain drives, gearboxes, pumps, compressors, and more to determine mechanical faults. The tester identifies and locates imbalances, misalignments, loose bearings, and similar insufficiencies quickly so that operators can take action and prevent production delays or losses. Because the system pinpoints root causes, unplanned downtime can be reduced.
The Fluke 810 Vibration Testing System features a fault severity scale with four levels to prioritize maintenance. The system recommends repairs to technicians to assist in decision-making and facilitate corrective action. Onboard context-sensitive help mechanism offers real-time tips and guidance to new users. A laser tachometer is included for accurate diagnosis of machine running speed. The system's tri-axial accelerometer reduces measurement time by 66% over single-axis accelerometers.
Easy-to-operate interface takes basic parameters, such as rpm and horsepower, from user input to begin its analysis. An expandable two gigabytes of onboard memory holds data. Included software generates diagnostic reports, transfers data, shows diagnostic and vibration spectra, and more.
For more information about the Fluke 810 Vibration Testing System, go to http://www.davis.com/19324 or call 800-358-5525.
Davis Instruments has been one of the world's leading sources of test, measurement, control, and calibration instruments since 1912. With expanding capabilities in industrial spheres such as power and utilities, petrochemicals, aerospace and electronics production, field services, and construction, the organization continues to respond to technological demands. Based in Vernon Hills, Illinois, Davis Instruments is dedicated to providing customers with excellent service and product applications expertise. For more information, contact Davis Instruments, 625 East Bunker Court, Vernon Hills, IL 60061. In the U.S.A. or Canada, call 800-358-5525. International customers, call 847-327-2000. Visit us at http://www.davis.com.