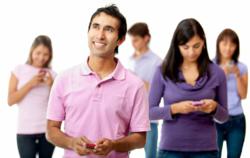 My posse - The App That Brings it All Together
Canonsburg, PA (PRWEB) July 06, 2012
With the introduction of a new app, many smart phone users will appreciate the convenience of having one-touch access to phone, text, email, tweets and Facebook functions. PIC America Inc., a Canonsburg, Pennsylvania based company, has just announced its new free app called My posse.
"Our smart phones do some amazing things these days, but some of the tasks that are frequently used by everyone are unfortunately painful and time consuming", says Dennis White, co-founder of My posse.
My posse is the only app that provides a convenient portal to your most used iPhone and iPad functions. Text, email, photos, phone, tweets and Facebook rolled into one functional access point makes your life simpler when it comes to communicating with your friends, family and others.
The app is photo album based providing the ability to import photos from ones address book or to acquire photos from other albums. You can also use the devices camera to snap a current photo. Additionally, the app comes with stock cartoon-like images that can be used in the absence of having a picture.
Once a contact is placed into the app, just touch their picture and you're only one more touch away from sending a text, email, tweet or calling them on their cell, at home or work. Also, a single touch and you can post a new message to your wall on Facebook. The app also keeps a separate communications log for each of your contacts.  
The real beauty of the app comes with its group text and group email abilities. Creating groups is so easy and once a group is set up you are a single touch away from blasting a group text or email.
Another very convenient feature is called quick-text. Many of us find that we send the same text message many times to the same person. For example, you may frequently send a text message to a  friend that says  "Do you want to do something tonight?". With quick-text you simply type this message once and you are always one-touch away from sending this message at any time in the future. Each of your contacts can have their own unique quick-text message that is ready and waiting.
My posse is a free app that is currently available in the iTunes store. It is currently only available on Apple devices although the company is in the development phase for many other smart phone devices.
For more information, please visit http://www.picamerica.com or contact info(at)picamerica(dot)com.