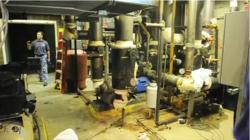 Stratford, CT (PRWEB) July 07, 2012
Paul and Mary Jane Plouffe, owners of ServiceMaster of Greater Bridgeport, were attending a conference for disaster recovery experts when the Gaylord Opryland Resort and Convention Center was rocked by an explosion.
No one was hurt but the aftermath of the explosion, in an ironic twist, was experienced by the very contractors accustomed to resolving disasters, not being in the midst of them. When Paul was told about the explosion while he and his wife were at the Grand Ole Opry next door to the hotel, he thought perhaps this was some kind of inappropriate joke.
But the scene when they returned to their hotel was very real. Hundreds of hotel guests were witness to emergency workers and police cordoning off the area and helicopters flying overhead. "We were out and about until 3 am," Paul said. They found other lodging for the night and by the next morning everyone was treated to a free breakfast, things returned to normal, and the conference continued.
"It was interesting to be at a disaster convention and having a disaster hit here," Paul commented. He also said the hotel did a good job overall. The lesson of course is about having a system in place, being prepared, for disasters.
ServiceMaster of Greater Bridgeport is equipped to be that preparedness system. The explosion at the hotel occurred in the mechanical room, apparently stemming from a heating system crack, but the team at ServiceMaster is professionally trained to handle all types of disasters. They will return your home or business to its pre-loss condition after water, fire, smoke, or mold damage.
As a family-owned disaster repair business for more than 20 years, ServiceMaster of Greater Bridgeport has served over 18,000 customers in Fairfield and New Haven counties. For more information or to schedule an estimate for your damage restoration, contact them today!