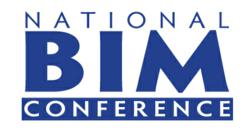 The National BIM Conference is the definitive conference for building information modeling
Centerville, MA (PRWEB) July 09, 2012
The issue is no longer why or when to adopt BIM, but rather, how to deploy it effectively, efficiently – and now! BIM has grown exponentially over the last few years, and the premier BIM conference has grown to match. The National BIM Conference is the definitive conference for building information modeling December 3-7, Washington, D.C. In its eighth year, the National BIM Conference will be held during Ecobuild America. Ecobuild®America is sponsored and produced by AEC Science & Technology ®.
The National BIM Conference set itself apart from other events by providing the practical rather the theoretical. It offers organizations ways to advance BIM applications and standards without getting stuck in techno babble. At the National BIM Conference leading firms and developers share how they are making things happen in minutes not years. This year the National BIM Conference is answering critical questions that arise from deploying BIM technology. Sessions include:

COBie, SPie and the Information Exchanges
Update on National Standards for CAD and BIM
BIM for Infrastruture
BIM Anywhere, Anytie, Any Device, Any Data, For Anyone
BIMStorm for the Lifecycle - COBie and Beyond
While other conferences target a niche or two within the lifecycle of the built environment, the National BIM Conference delivers comprehensive interoperability and collaboration solutions. It is the only event that addresses the IT needs of the entire facilities and construction team. The National BIM Conference is the one place to learn about AEC interoperability; BIM in construction; standard information exchanges; BIM for owners and FMs; green BIM; integrated project delivery; cloud computing; BIM in education; smart BIMs; national CAD standard; BIM objects; life-cycle BIM; GIS, geospatial and planning BIM; project management and cost control; BIM in healthcare; open standards; BIM specs; BIM for building performance and energy efficiency; web servers and model servers; new software; best practices and much more.
Beyond the BIM sessions are related technology sessions dealing with building performance; product selection and specifying; energy efficiency; and green building and sustainable design. The conference continues to add vendor specific user sessions for Autodesk Revit, and Graphisoft.
The AEC Interoperability center adds a sophisticated, hands-on, interactive exhibit and educational opportunity. Plug and play kiosks teach through visual demonstrations how the rapidly emerging technologies are redefining how projects are planned and scheduled, cost overruns are minimized, and how facilities are managed throughout the project lifecycle.
The National BIM Conference at Ecobuild 2012 is full of opportunities for attendees to connect, share, tell, learn and grow their BIM experiences with other AEC professionals, project owners and software developers.
About AEC Science & Technology®, LLC
Under the leadership of principals George Borkovich and Richard C. Vendola, Jr.,AEC Science & Technology®, LLC (Centerville, MA), manages and produces Ecobuild® America. Together they have a depth of experience in technology and event planning for the AEC industry, including creating and managing the former A/E/C SYSTEMS International conference and exhibition. The events cover the unique intersection where ecology meets technology. Proud member of: buildingSMART alliance™; Green Building Initiative; High Performance Building Congressional Caucus Coalition; United States Green Building Council; and Zero Energy Commercial Building Consortium.
###