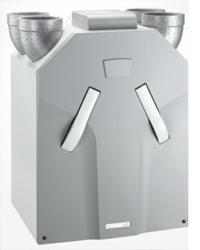 Easy to install and maintain. Breathe the air you want not the air you get.
San Francisco, CA (PRWEB) July 10, 2012
Zehnder America Inc. is proud of its California dealer Hayward Lumber for presenting Zehnder Comfosystems, recognized as a Parade of Products Winner at the Pacific Coast Builders Conference (PCBC). The Parade of Products showcased the best of the best residential building products at the show. Industry professionals expressed excitement for Zehnder Comfosystems ERV/HRV for its ability to mitigate potential mold/mildew related issues and preserving home value. Describing Zehnder Comfosystems, Bill Hayward, President & CEO of Hayward Lumber, said, "Easy to install and maintain. Breathe the air you want not the air you get." Zehnder Comfosystems brings in continuous filtered and room tempered fresh air for its occupants while recovering over 90% of the room temperature. With over 90% of apparent sensible effectiveness and a power consumption as low as .30 watts per cfm, Zehnder is setting a standard for the next generation of Heat and Energy Recovery Ventilation Systems.
Today's houses are becoming tighter and more insulated, which has led to an increased need for proper ventilation for healthy indoor air quality. Airtight homes not properly ventilated are susceptible to poor indoor air quality as well as mildew and moisture damage. Whether a Passive House construction, high-performance home, or a new home subject to new stricter building regulation codes, Zehnder America's Comfosystems promote both a high standard for energy-efficiency and indoor air quality.
About Zehnder America
Zehnder America focuses on high quality heating and ventilation solutions to promote comfortable, healthy, and energy-efficient indoor living. Zehnder's Comfosystems ensure fresh air and a healthy atmosphere for the home year-round. Zehnder America is a division of the Zehnder Group, headquartered in Switzerland, which is world renowned in the development and production of high quality heating and ventilation solutions.
About Hayward Lumber
Hayward has been supplying products, services, and solutions to the construction market since 1919. Fourth-generation family-owned and operated, the company has grown to include six lumberyards in Monterey, San Luis Obispo, and Santa Barbara counties, as well as seven Hayward Design Centers (doors, windows and cabinets), and Hayward Building Systems a manufacturing facility (Hayward Fast Floor and trusses).