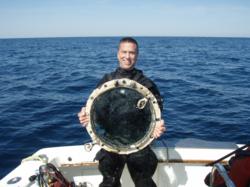 Never hold your breath underwater; keep breathing and remain calm. The same is true when the stock market drops 500 points.
Wilmington, NC (PRWEB) July 06, 2012
Continued instability in the economic waters – as indicated by the U.S. Labor Department's latest Jobs Report and recent plunges in the stock market – has many financial consultants scrambling to find new ways to help individuals stay afloat. According to a leading East Coast wealth management expert, however, industry pundits may actually need to dive below the surface to uncover any real solutions.
Robert L. Penn, Jr. – CEO of North Carolina-based Pathfinder Wealth Consulting – has made a living helping people fiscally plan for the future. As a hobby, he's also spent much of his time in scuba gear, combing shipwrecks at the bottom of the ocean's floor. Recently, the avid diver captured much attention with his theory that the principles of diving overlap with principles of finance.
"I've always been fascinated with exploring shipwrecks and understanding how they met their final resting place," Penn said. "You're forced to question, could this have been prevented, much like the financial crises that began in 2007?"
Penn explained that human error was the cause of many shipwrecks in the past. In large part, the same goes for the nation's current fiscal woes. It was not so much the course, but rather how the course was navigated. Penn noted that regardless of the economic outlook as a whole, we are all captains to our own vessels and must operate as such.
"I was initially surprised to learn that human error was the leading cause, especially when it was a result of poor design, instability and improper operation, just to name a few," he said. "As I thought about my background in financial planning, I realized the similarities people face in navigating their own financial path. Ships that are properly designed, well maintained, and commanded by a competent crew not only stay afloat, but reach their destination."
Penn said comparisons between diving and smart financial planning go well beyond sunken boats. In fact, he likened both experiences to a journey that requires extensive preparedness and insight – something that seemed lacking in the buildup to today's economic collapse.
"Never hold your breath underwater; keep breathing and remain calm," Penn said. "The same is true when the stock market drops 500 points. If you panic, you may never recover your temporary loss."
Both fields also require competence.
"You seek knowledge from a qualified instructor before you go diving, right?" Penn asks. "At PWC we believe that planning and education also come before the sale of any financial product."
Penn stressed that maintenance –of both your securities and your scuba gear – is another critical action when planning for the future.
"When it comes to diving, especially in saltwater, taking care of your equipment can mean the difference between life and death," he said. "When it comes to your financial plan, you should review it at least annually to see that you are on the right path."
These visuals help Penn communicate with his clients about the value in – and necessity of -- financial planning. Penn believes it's this characteristic that makes him both successful and sought after. In June, he celebrated 20 years in the financial services industry; however his desire to enter the field of finance was sparked long before he first stepped foot into an office.
"I knew I wanted a career in the field of finance as a young boy," Penn said. "After questioning my grandfather as to why he did not own a boat or a house by the water, he politely informed me that not everyone could afford such luxuries."
His desire for diving was founded on his fearless personality.
"I served six years in the Aviation Branch of the United States Army," Penn said. "After jumping out of airplanes and repelling out of helicopters at 120' off the ground, my buddies and I thought it would be cool to dive 120 feet underwater."
Penn earned the Open Water Certification and then went on to achieve the Advanced Open Water, Enriched Air Nitrox, Advanced Nitrox and Decompression Procedures certifications. Penn has traveled far and wide in his quest for diving experiences, including Pennsylvania, Virginia, North Carolina, the Florida Keys, Cozumel, Cabo San Lucas, Galapagos, Puerto Rico and Socorro Island.
Upon retiring from the Army, Penn began the next stage of his career pursing his grandfather's inadvertent advice – helping others to best manage their money. In researching his opportunities in the financial field, he learned that, at the time, there were two options – either independent or proprietary advisors. Ultimately, he decided to pursue the independent side where, according to Penn, "education and assisting clients with all of their financial needs was equally important."
Now a Certified Retirement Plan Specialist, Penn is helping his clientele plan for all of life's expected – and unexpected – events. Over his 20-year career, Penn has enjoyed sharing not only his professional advice but also his passions.
To date, Penn has taken more than a dozen clients on local day and overnight diving trips. He says he wishes to share the diving experiences because he finds life to be more enjoyable when you spend it with others.
"We have memories to talk about for years," says Penn. "You know the saying 'People do business with someone they know, like, and trust.'? I follow those same principals when inviting clients to go diving."
For Penn, his progress in both financial consulting and diving will never end. He hopes to achieve the Certified Financial Planning certification in July, as well as to further his diving education. According to Penn, he aims for Pathfinder Wealth Consulting to be the most respected name in financial planning and will continue to take family, friends and clients on diving trips.
"By combining my work with pleasure, I am able to strengthen my relationships with my clients in an exciting and unexpected way," Penn said. "I share my passion for diving with clients to make lasting personal memories but also to better relate to them professionally … plus, people don't dread going to see their financial planner quite as much when the meeting spot is on a boat and the required apparel is a wet suit."
About Pathfinder Wealth Consulting
Pathfinder Wealth Consulting is a Wilmington, N.C.-based independent financial services firm that has assisted individuals throughout the United States to establish and maintain long-term financial goals since 1994. The firm is operated by Robert Penn, Jr., CRPS and Jason Wheeler, CFP, AIF, CLU, MBA through an affiliation with the Commonwealth Financial Network. For more information about Pathfinder Wealth Consulting, visit http://www.pathfinderwc.com.