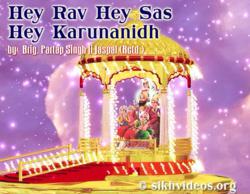 Hey Rav Hey Sas Hey Karunanidh - Album produced and directed by Brig. Partap Singh Ji Jaspal (Retd.)
(PRWEB) July 06, 2012
Guru Nanak Daata Baksh Lai Mission has offered a humble tribute at the Lotus Feet of Sri Guru Gobind Singh Ji and His Divine Family in the form of a one hour video album titled "Hey Rav Hey Sas Hey Karunanidh" released on the Sacred and Auspicious Birth Anniversary of Sri Guru Hargobind Sahib in 2012.
The album produced and directed by Brig. Partap Singh Ji Jaspal (Retd.), is the first part in the series dedicated to Sri Guru Gobind Singh Ji, Four Beloved Sahibzadey (sons), and Mata Gujri Ji.
The video is available for free viewing on the mission's video website http://www.sikhvideos.org and is playing on the cable networks in Punjab, Haryana and other parts of North India.
The programs of the mission are being telecast on a daily basis in US and Canada on the channel "Jus One" from 11:00 to 11:30 (Eastern Time) in the morning. In India these are telecast on the channels: "Live Today" from 5:30 am to 6:30 am (Indian Time) and 5:30pm to 6:00pm (India Time), and "Channel no. 2" from 5:00am to 6:00am.
About Guru Nanak Daata Baksh Lai Mission:
Guru Nanak Daata Baksh Lai Mission, through which all the productions and publications of Brig. Partap Singh Ji Jaspal (Retd.) are released, is a totally non-profitable mission. It does not accept any donations, monetary or in kind. Whatever Brig. Partap Singh Ji Jaspal inherited spiritually at the feet of his most beloved master Baba Nand Singh Ji Maharaj, and at the feet of his most worshipful father, Baba Narinder Singh Ji, is a most precious treasure of heaven. It is only a humble endeavor of this mission to spread and share the divine fragrance and flavor of this treasure with the whole of mankind and the universe. Such a humble effort on such a vast scale appears to have been made for the first time and is spreading like wildfire all over the world. This mission is purely a labor of love of a family group at the lotus feet of the sole beloved lord of the whole creation and nothing more.
This mission seeks no publicity and serves the whole global community in the firm belief of oneness of godhood and oneness of the mankind.