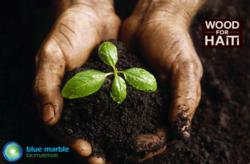 Missoula, MT (PRWEB) July 06, 2012
Blue Marble Biomaterials and Wood For Haiti have established a partnership to launch a sustainable development initiative in Haiti. The initiative will support Haitian efforts to rebuild both infrastructure and local agricultural economies in the wake of 2010's devastating earthquake.
Wood for Haiti is a Montana-based non-profit organization whose mission is to provide timber products and training to Haitians to build hurricane and earthquake resistant homes. Blue Marble, a natural flavor and fragrance company, will work alongside Wood for Haiti projects to rebuild the local spice trade by providing seeds and training to farmers. Blue Marble will also provide security to the fledgling trade relationship by purchasing guaranteed amounts of spices and providing inroads to other purchasers from the U.S. These combined efforts will ensure that infrastructure rebuilding will be sustainably supported by the simultaneous development of a healthy, trade-based economy.
The project is seeking seed money through the crowd funding website RocketHub.com to raise $50,000 for essential purchases such as: plant seedlings, research of Haitian crops, international trade agreements, microfinance and purchasing contracts, international shipping of Haitian-grown herbs and spices to Blue Marble's manufacturing facility in Missoula, Montana, and the processing and manufacturing of essential oils and extracts. The project has until August 9, 2012 to raise the necessary funds to begin this project.
For more information on this partnership, go to [http://www.rockethub.com/projects/8924-seeding-haiti-s-future-from-the-soil-up.
About Wood For Haiti: Wood For Haiti is a non-profit with a mission to supply U.S. wood/materials and construction training to Haitians in its effort to build hurricane/earthquake resistant homes and community centers. In conjunction with rebuilding homes, Wood For Haiti will cultivate new agricultural and economic development through production of herbs and spices and the replanting of Haitian forests to allow Haitians to regain independent and domestic wood resources. For more information go to: woodforhaiti.org.
About Blue Marble Biomaterials: Blue Marble Biomaterials is a wholly owned subsidiary of Blue Marble Energy. Blue Marble Biomaterials manufactures renewable specialty chemicals for the food, fragrance, cosmetics, and personal care industries. Their mission is to replace petroleum-based chemicals with fully sustainable, zero carbon specialty chemicals. For more information on Blue Marble go to: http://www.bluemarblebio.com
Contact for Blue Marble Energy / Blue Marble Biomaterials:
Melanie Calahan, 406-640-4014, melanie.calahan(at)bluemarblebio(dot)com