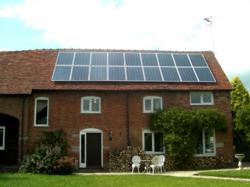 They are a good investment and returns are as good, if not better, than a year ago
(PRWEB UK) 7 July 2012
In May 2011 Stratford Energy Solutions quoted a 3.43kW system for a customer in Stratford-upon-Avon. For whatever reason the project did not go ahead, but only last week Stratford Energy were asked to re-look at the project.
Last year the Feed-in Tariff was 43.3p and the installation cost £11,965 with an estimated income of £1,506 giving a return on investment of 12.58%.
A year later - same roof, on the same house installing a 3.43kW system. Feed-in Tariff is now 21p but owing to reductions in panel prices the installation cost is £6,895 with an estimated income of £878 giving a return on investment of 12.73%.
In conclusion: Yes they are a good investment and returns are as good, if not better, than a year ago. The only difference is the Feed-in Tariff has dropped, the technology is now cheaper to install and probably you are paying more for your electricity!!!
However, you need to act quickly as the Feed-in Tariff is going to drop again in July. So do not delay and call Stratford Energy today for your free consultation and you could be generating your own free electricity.
Stratford Energy Solutions
01789 262411
http://www.stratfordenergy.co.uk