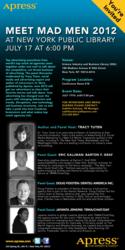 New York, NY (PRWEB) July 05, 2012
Top advertising executives from world's top notch ad agencies come together under one roof to talk about the competitive, cut throat business of advertising. The event takes place at the Science, Business and Industry Library (SIBL) one of the specialized centers of New York Public Library on July 17 at 6:00 pm. The panel discussion moderated by Tracy Tuten, social media and advertising expert and author of Advertisers At Work (published by Apress; June 2012) will feature Eric Kallman from Barton F. Graf 9000, Doug Fidoten from Dentsu America and Jayanta Jenkins from TBWA/Chiat/Day. The discussion will get our advertisers to share their favorite stories and talk about how advertising has changed over the years with changing behaviors and trends, disruptions, new technology and business structures.
PANEL HOST
Tracy Tuten: Author of Advertisers At Work
Dr. Tracy Tuten is an Associate Professor of marketing at East Carolina University and author of Advertisers At Work (Apress; June 2012). Tuten is also the author of Advertising 2.0: Social Media Marketing in a Web 2.0 World. Frequently quoted in the press, including in The New York Times, Brandweek, and the Washington Post, she is a leading contributor to industry views on branding.
PANEL GUESTS
Eric Kallman: Barton F. Graf 9000
Eric Kallman is executive creative director at Barton F. Graf 9000 (bfg9000ny.com), headed by Gerry Graf and based in New York. Prior to joining Barton F. Graf 9000 (BFG), Kallman was a copywriter at Wieden+Kennedy in Portland, Oregon, where he worked with Craig Allen on campaigns that included the Old Spice campaign, "The Man Your Man Could Smell Like." Kallman was partly responsible for game-changing Skittles and Starburst campaigns during his tenure at TBWA/Chiat/Day.
Doug Fidoten: Dentsu America Inc.
Doug Fidoten is president of Dentsu America, Inc. (dentsuamerica.com), a full-service agency that is part of the Dentsu Network. Fidoten's regard for photography has served him well as he moved from the creative side of the advertising industry to roles in account management and eventually to the leadership team at Dentsu America. Doug Fidoten led the Canon team at Dentsu America and remains active in that account despite the demands of his role. In 2006, he was named the first American president for Dentsu. Still an avid photographer, Fidoten lives in Manhattan with his wife and three children.
Jayanta Jenkins: TBWA/Chiat/Day
Jayanta Jenkins is global creative director with TBWA/Chiat/Day (tbwachiat.com), the agency known for the iconic 1984 Apple ad, where he is responsible for managing and creating the global integrated marketing communications for Gatorade. Jenkins began his advertising career at The Martin Agency in Richmond, Virginia, and then went on to work at Wieden+Kennedy in Portland, Amsterdam, and Tokyo, where he created and produced integrated campaigns for Nike Basketball, Nike Running, EA Sports, Powerade, Lebron James, and Amazon.uk. His work has been awarded at Cannes, One Show, and the Communication Arts Annuals, among others. His portfolio and blog live at freshistheword.com
Event Details:
Venue: Science Industry and Business Library (SIBL)
188 Madison Avenue @ 34th Street
New York, NY 10016-4314
Program Location: Conference Room 018
Event Date: : JULY 17th, 6:00-7:30 pm.
About Apress Media
Apress Media LLC is a technical and business publisher devoted to meeting the needs of IT professionals, software developers, programmers, and business leaders with more than 1,000 books in print and electronic formats. Apress provides high-quality, no-fluff content that helps serious technology professionals build a comprehensive pathway to career success. Since 2007, Apress has been part of Springer Science+Business Media, one of the world's leading scientific, technical, and medical publishing houses, enabling global distribution of Apress publications. For more information about the innovative approach Apress takes to publishing, please visit apress.com
For interviews with panel speakers or review copies of Advertisers At Work, please contact:
Sadhika Salariya | Public Relations Manager | Apress
SadhikaSalariya(at)apress(dot)com |Phone: (212) 620-8061
http://www.apress.com | @Apress