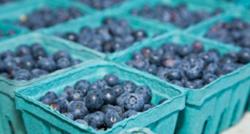 Albany, NY (PRWEB) July 05, 2012
It's blueberry season, and a great way to celebrate these sweet treats is to stop by CDPHP's Farmers' Market from 11 a.m. to 1:30 p.m. on Thursday, July 12, during this year's Blueberry Festival.
In addition to selling fresh blueberries, market vendors will have blueberry-inspired products for sale, including jam, breads, muffins and scones; peanut butter with blueberries; and blueberry sauce – perfect for pouring over ice cream.
And what better way to cool off than with a refreshing glass of blueberry lemonade. Stop by and try some! Samples will be available.
The fruit, a summer staple, is a nutritional powerhouse, packed with vitamin C, fiber, antioxidants and more.
In addition to the Blueberry Festival, CDPHP's Farmers' Market will feature three additional vendors – Ronnybrook Farm Dairy, Fancher's Creekside Farm and Gatherer's Gourmet Granola.

Ronnybrook Farm is based in Ancramdale and is a third-generation family farm. The farm was started by the Osofskys in 1941. The family continues the tradition of offering high-quality dairy products, including milk, yogurt, ice cream, butter and cheeses.
Fancher's Creekside Farm in Westerlo has been in the Fancher family since 1935. The current owners, Dennis and Sue Fancher, sell maple syrup, old-fashioned homemade jams and pickles.
Gatherer's Gourmet Granola was founded in September 2010. The company recently outgrew its original production space in Albany and moved to a larger facility in Schenectady. The granola products include Chipmunk's Choice, Squirrel Bait and Fox's Fancy.
Tickets for an upcoming Giffy's Bar-B-Q fundraiser will also be available for purchase during the market. The BBQ takes place from 3 to 5 p.m. Tuesday, July 24, in the CDPHP parking lot. The to-go dinner includes a half-chicken, baked potato, coleslaw, roll and butter, cookie and a beverage. Tickets are $10 and proceeds benefit Big Brothers Big Sisters of the Capital Region. Payment can be made by cash (exact change only) or checks made payable to CDPHP.
This year's market runs from 11 a.m. to 1:30 p.m. Thursdays through Oct. 4 at CDPHP Headquarters, 500 Patroon Creek Blvd., Albany.
About CDPHP®
Established in 1984 as a physician-founded, member-focused, and community-based not-for-profit health plan, CDPHP and its affiliates are uniquely positioned to serve as a model of quality and health value, offering members in 24 counties throughout New York a full array of innovative products. Visit CDPHP at http://www.cdphp.com or on Facebook, Twitter, or LinkedIn