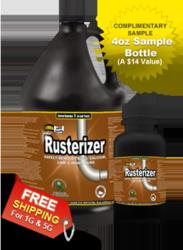 Rust can turn something as beautiful as stone patio tile into an orange eye sore if it is not taken care of properly. Rust can literally eat up any metal surface with prolonged exposure.
Hollywood, Florida (PRWEB) July 06, 2012
Removing rust can be a home owners worst nightmare especially when the house is up for sale. Orange rust stains on walls, concrete, and stone patio tile is an eye sore for potential buyers and can greatly decrease the value of the home which could cause homeowners to drop the asking price of the home.
See The Secret Rust Removal Formula That Removes Rust Stains Without Scrubbing
Just a little moisture in any iron metal item or surface and rust will break out in just a short moment. To clear it effectively and safely, Rusterizer formulated a solution with use of natural ingredients. For sometime, the said solution, also called as Rusterizer, was only available to a number of large companies and rust removal contractors. And as they all said, the product simply works. That allowed companies to cut low on their cleaning budget and contractors to raise their profit.
Read more at: prweb.com
A representative of BillionairesBunker.com states that many times in the past, the only way to remove rust was to use acid or other harsh chemicals which would not only remove the rust stains but would damage the surface that the rust was on.Now Rusterizer not only removes rust, it will protect the area to prevent rust from coming back in the future.