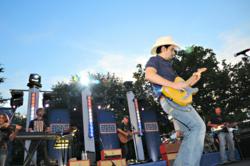 I can't think of a better way to celebrate Independence Day then at the home of our President, honoring the men and women who protect and serve our rights and freedoms and their families... -Brad Paisley
(PRWEB) July 05, 2012
Twitter Pitch: Celebrate the 4th with troops, @BarackObama, @BradPaisley and @the_USO LIVE on whitehouse.gov!
President Obama and The First Family welcomed troops and military families in their backyard with an Independence Day celebration packed full of fun, food, games and a USO performance featuring Grammy Award-winning artist Brad Paisley. The fourth annual "Salute to the Military" USO concert also included a performance by "The President's Own" U.S. Marine Band.
Details:

In celebration of Joining Forces, the White House "Salute to the Military" USO concert featuring Brad Paisley was attended by more than 1,200 troops and military families, and was streamed LIVE on http://www.whitehouse.gov.
The White House celebrated their first "Salute to the Military" USO concert in 2009 and have continued their tradition for the past four years. Among the notable names and groups to participate in this Independence Day ritual are Jimmy Fallon, Foo Fighters, Michelle Branch, Cedric "The Entertainer," The Killers, Brandi Carlile, Train, Amos Lee and "The President's Own" U.S. Marine Band.
In April 2011, President Barack Obama, First Lady Michelle Obama, Vice President Joe Biden and Dr. Jill Biden announced Joining Forces, an initiative that shines a spotlight on the unique needs and issues that are faced by our military families; raises awareness of their challenges and sacrifices; and strives to improve their overall well-being and quality of life in the face of extraordinary stress.
The USO is proud to support Joining Forces and urges Americans to send Messages of Thanks to military families, share their Stories of Support that detail how they have supported military families and participate in volunteer opportunities in their neighborhood that will help strengthen the military community.
A three-time Grammy Award-winner, Paisley has placed more than 20 singles at the top of the charts, been awarded 14 Academy of Country Music Awards and 14 Country Music Association Awards including the 2010 "Entertainer of the Year." His most recent album "This is Country Music" debuted in the #1 spot on Billboard's Top Country Albums chart. Additionally, his first book, "Diary of a Player," spent two weeks on the New York Times Best Seller list.
Quotes:
Attributed to USO President and CEO Sloan Gibson:
"The USO is honored to once again join forces with President Obama and the White House to celebrate Independence Day with our troops and their families in such a special way. Our men and women in uniform deserve our thanks year round, but it is truly an honor for us to be able to say 'thank you' on this very appropriate day. We send special thanks to Brad Paisley for putting on such a terrific performance for our military families."
Attributed to Brad Paisley:
"I can't think of a better way to celebrate Independence Day then at the home of our President, honoring the men and women who protect and serve our rights and freedoms and their families. Being here today is truly an honor and makes me proud to be an American."
For more information about the USO, visit uso.org.
Multimedia:
USO Photos: http://bit.ly/NyraVB
USO Fact Sheet: http://bit.ly/yaebvo
USO Logo: http://bit.ly/JX1ghs
Other Web Sites:
http://www.uso.org
http://www.whitehouse.gov
http://www.bradpaisley.com
About the USO
The USO (United Service Organizations) lifts the spirits of America's troops and their families millions of times each year at hundreds of places worldwide. We provide a touch of home through centers at airports and military bases in the U.S. and abroad, top quality entertainment and innovative programs and services. We also provide critical support to those who need us most, including forward-deployed troops, military families, wounded warriors and their families and the families of the fallen.
The USO is a private, nonprofit organization, not a government agency. All of our programs and services are made possible by the American people, support of our corporate partners and the dedication of our volunteers and staff. In addition to individual donors and corporate sponsors, the USO is supported by President's Circle Partners: American Airlines, AT&T, Clear Channel, The Coca-Cola Company, Kangaroo Express, Kroger, Lowe's, Northrop Grumman Corporation, Procter & Gamble, and TriWest Healthcare Alliance and Worldwide Strategic Partners: BAE Systems, The Boeing Company, Lockheed Martin, and Microsoft Corporation. We are also supported through the United Way and Combined Federal Campaign (CFC-11381). To join us in this patriotic mission, and to learn more about the USO, please visit uso.org.