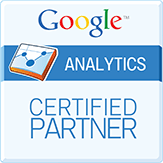 If you understand and implement best practices, these types of changes won't impact you.
Boca Raton, Florida (PRWEB) July 06, 2012
MoreVisibility, a six-time Inc. 500/5000 recipient and one of the world's most experienced search engine marketing and optimization (SEM/SEO) agencies, reaffirmed its priority to educate businesses on the importance of SEO when Danielle Leitch, More Visibility's EVP, spoke at the 2012 Internet Retailer Conference & Exhibition in Chicago.
During the conference, Leitch spoke about SEO best practices in an interactive session focused on live website critiques. She reviewed websites volunteered for critique by conference attendees. During each review, Leitch offered constructive criticism and shared some SEO best practices – also known as "white hat" practices – and illustrated how companies can implement best practices while keeping an eye on usability.
But creating a website that's optimized for both search engines and users continues to be a big challenge for e-retailers.
"Striking a balance between SEO and usability is so important," Leitch explains. "Many businesses struggle with ensuring their sites are SEO optimized and user friendly – it's a problem we work with clients on all the time."
Leitch wasn't surprised to find that a variety of sites – both large retail sites and small mom-and-pop sites – had the same problems. Common errors included a lack of content, duplicate content, improper keyword targeting, technical and architectural issues, and overall site usability challenges.
"No matter who you are, or what you sell," she says, "the basics of SEO are always the same."
And in an ever-changing landscape, they're more important than ever.
"Because of seismic changes in the nature of search – most notably Google's Penguin update – it's more important than ever that marketers understand and implement 'white hat' practices. This is why we're so committed to making ourselves available to the online community and have been for many years."
Because, Leitch says, "If you understand and implement best practices, these types of changes won't impact you."
About MoreVisibility
Founded in 1999, MoreVisibility is one of the world's leading Search Engine Marketing, Optimization and Design firms, having helped hundreds of Fortune 1000 companies and small businesses increase qualified traffic to their Web sites. In 2005, 2006, 2007, 2008, 2009 and 2010, MoreVisibility was named to the Inc 500/Inc 5000 list of the nation's fastest growing privately owned firms. MoreVisibility is a Google AdWords Certified Partner and a Google Analytics Certified Partner.
MoreVisibility boasts high client retention through a team of 35 senior professionals who deliver superior performance and measurable results. Notable clients served include: Direct Marketing Association (DMA), Children's Hospital of Philadelphia, The Metropolitan Museum of Art, Dairy Council of California, RSM McGladrey, The Mayo Clinic, Travel Nevada and Clemson University. MoreVisibility is based in Boca Raton, Fla., and can be found on the web at http://www.MoreVisibility.com.