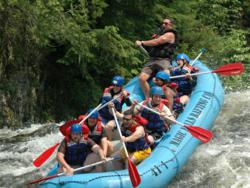 Depending on thier age and party make-up, Magic Falls rafters are seeking a vareity of white water trips from mild to wild.
West Forks, Maine (PRWEB) July 07, 2012
To satisfy the vacation demands of the Gen X and Gen Y cohorts Magic Falls Rafting Co.in West Forks, Maine at the confluence of the Dead and Kennebec Rivers has created two new whitewater rafting adventures. For the older Gen Y/Millennials, ages 20-30, the ultimate thrill seekers, Magic Falls has developed a Double Run of the Upper Kennebec River Gorge. For the Gen X parents who chose to have children in their 30's and whose households are now comprised of tweens and teens, the rafting outfitter has designed a sampling of Maine back country action. Says Magic Falls Rafting Co.'s owner and registered Maine whitewater guide Dave Neddeau, "No longer does our standard Kennebec River rafting trip fit all. Our guests, depending on their age and party make-up, are seeking a variety of trips from mild to wild."
The Family Outback Adventure was created to offer a reasonably priced sampler of Maine wilderness activities. The adventure package includes a full river raft trip on the Kennebec River followed by a hearty outdoor barbecue of choice of steak, chicken, fish or veggie burger; hike to Moxie Falls, Maine's highest at 100 feet, wildlife van safari in search for moose, deer, eagles and osprey; inflatable kayak trip on the lower Kennebec river; a night's camping "outback" of the Magic Falls Base facility, a campfire cookout and campfire breakfast. Magic Falls supplies the tents, camping equipment, thick sleeping pads and transportation to activities. Families provide pillows, sleeping bags, warm clothes, rain gear, sturdy footwear and flashlight. Minimum age for the Family Outback Adventure is 10.
Magic Falls Rafting Co. is the first outfitter to offer a high-adventure, action-packed double run of the Upper Kennebec Gorge. The Magic Rivers Multi-Gorge Adventure rafts exclusively with six passenger sport boats. This 13 foot raft enables rafters to surf rapids and respond to big hits. Thrill-seekers run the five mile Class III-V Upper Kennebec Gorge twice and then return to the base complex for a barbecue topped off with a homemade dessert. Minimum age for the Multi-Gorge trip is 16.
Along with these custom trips Magic Falls offers day trips on the Kennebec River, Kennebec Big water (8,000 cubic feet per second) theme trips, high water release trips on the Dead River, two-day combination trips on the Kennebec and Dead, a weekend Upper Gorge Trip on the Kennebec, and a Rock and Roll Package with rafting and rock climbing. Magic Falls base complex consists of a campground with tent sites and cabin tents, a lodge with king, queen and bunk rooms, guest house sleeping 16, free WIFI, recreation pavilion, showers and changing area, volley ball, ½ court basketball, 25 foot climbing tower and float tubes.
Magic Falls Rafting Co., a family owned outfitter, was founded in 1989. Its mission is to provide safety-conscious, value-priced rafting adventures for its guests. Information and reservations may be made online or by phoning 1-800-207-7238.