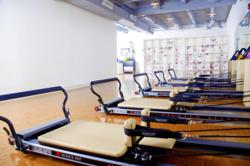 I wanted to create a place where our clients could come and achieve all of their fitness and wellness needs in one location.
Miami, FL (PRWEB) July 06, 2012
Coconut Grove, a known hub for the health, beauty and fitness minded, has become home to one of South Florida's premiere wellness studios Pilates in the Grove, companion studio to Miami Beach's popular Pilates on the Beach. Pilates on the Beach ingrained itself into the heart of the Miami Beach fitness community several years ago by combining a strict combination of private and group Pilates, as well as physical therapy services for its clients. According to studio co-owner Christa Gurka, the same principles apply to the newer Coconut Grove location in conjunction with the addition of other services such as Yoga, Pilates for Athletes, Barre Classes and Massage Therapy.
One of the newest classes offered at Pilates in the Grove is the Trilates Class that is geared towards improving the physical fitness of local tri-athletes. This 60-minute reformer class is led by one of the studios distinguished physical therapists and incorporates sport specific exercises for the running, biking and swimming athletes of our community.
Situated on Virginia Street in the heart of Coconut Grove, Pilates in the Grove offers a variety of options and packages for the novice or Pilates devotee to begin or continue their practice. Gurka, a master Pilates instructor and certified physical therapist, specializes in private classes for the high profile client who prefers a more dedicated and exclusive experience. The studio also offers an array of invigorating and fun group classes taught by her handpicked expert instructors.
"In my many years as a physical therapist, I have seen the positive impact of Pilates based movements on the health and well-being of my clients," said Gurka, longtime resident of Coconut Grove. "It is exciting to be able to bring my passion for Pilates to a community I care so much about with the Pilates in the Grove studio. I wanted to create a place where our clients could come and achieve all of their fitness and wellness needs in one location."
Throughout the summer, Pilates in the Grove is offering a summer promotion of 10 reformer classes for only $200.
About Pilates
Pilates is a form of exercise, developed by Joseph Pilates, which emphasizes the balanced development of the body through core strength, flexibility, and awareness in order to support efficient, graceful movement.
Follow us on Twitter and Like us on Facebook to reveal new and ongoing promotions.
http://www.facebook.com/pilatesinthegrove
http://twitter.com/pilatesinthegrv
http://www.pilatesinthegrove.net