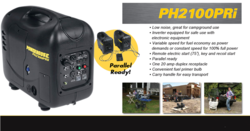 What also brought attention to the Powerhouse name is the growing popularity of the inverter generator, which is exclusively offered by Powerhouse
Destin, FL (PRWEB) July 06, 2012
Powerhouse Generators, an up-and-coming brand of reliable, state-of-the-art generators, are now available at Disaster Relief Supply. Disaster Relief Supply, a popular retailer of emergency supplies, brought in this line of smaller generators to replace an old line of assorted brands. What also brought attention to the Powerhouse name is the growing popularity of the inverter generator, which is exclusively offered by Powerhouse.
The Powerhouse Generator brand is also trending in internet searches over the google search engine. Searches for Powerhouse Generators have increased in recent months, surpassing some of the bigger names, leading to increased interest from dealers. The features on most of the Powerhouse models like the PH2100PRi include electric start, remote start, parallel ready, and low noise, which are very important for consumers in a highly competitive generator market.
Generators from Powerhouse are now available for purchase from the Disaster Relief Supply website, and at their Destin, FL location, and include models from 2000 to 3100 watts. Disaster Relief Supply is hoping that these generators will supplement their growing line of emergency preparedness supplies including chainsaws, pressure washers, sandbags, and emergency foods, just in time for hurricane season.