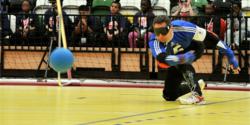 We have brilliant players, have great coaching and are close as a squad from the youngest player at 15-years-old to me at 43
(PRWEB) July 05, 2012
Brothers Adam and David Knott have been named in ParalympicsGB's six-man goalball squad for London 2012.
The Hampshire-based duo will be joined by Michael Sharkey, whose sister Anna has been named in the women's team, ex-England under-18 basketballer all-star Niall Graham, Joe Dodson and Simon Goodall.
Goalball is a Paralympic-specific sport played by athletes with visual impairments. They wear black-out masks over their eyes and score goals by throwing a ball with a bell inside it towards the opposition's goal. Defenders use their bodies to act as barriers to prevent a goal.
Britain begin their campaign against defending world champions and 2008 silver medallists Lithuania on 30 August at the Copper Box venue at the Olympic Park. They also face Beijing bronze medallists Sweden on Saturday 1 September, with Turkey, Finland and Brazil making up the remainder of Pool A.
The Knott brothers began playing goalball after their father saw the sport on television, attending a BPA-run multi-sport Paralympic Potential Day at Brunel University in 2010. Two years later, the brothers will line-up alongside each other in London.
"We played in the venue [the Copper Box] in front of 1,000 people and that was fantastic," said elder brother and C4Paralympics video diarist Adam. "But it is off the scale to think we will be playing for GB in front of 7,000 fans. It will be amazing and emotional. I can't wait."
Sharkey is also looking forward to competing in the same venue as his sister Anna, who recently married and who plays under the name Tipton for the women's team.
"Anna has been a fantastic support for me and it will be very special for us to be there together," he said. "I'm not sure how much time we'll get together but we both feel so honoured to be a part of it", said Michael of his selection.
Former basketballer Graham started losing his sight aged 18 due to a congenital condition.
"I was lucky enough to carry the Olympic Torch through my home town of Corby and the reception was amazing," he said. "It shows how much the public are behind the Olympics and Paralympics. It made me very proud to be a part of that."
Goodall, the oldest member of the six-man squad, added: " We have brilliant players, have great coaching and are close as a squad from the youngest player at 15-years-old to me at 43. We are going up against the best in the world but what better place to do that than London in the Paralympics."
ParalympicsGB goalball team: Joe Dodson, Simon Goodall, Niall Graham, Adam Knott, David Knott, Michael Sharkey.
Men's full goalball draw
Pool A
Lithuania
Great Britain
Finland
Brazil
Turkey
Sweden
Pool B
China
Iran
South Korea
Algeria
Canada
Belgium
Women's full Goalball draw
Pool C
China
Great Britain
Denmark
Brazil
Finland
Pool D
USA
Sweden
Australia
Japan
Canada
Watch our 60-second guide to goalball
For all your latest news ahead of the 2012 Paralympics, follow @C4Paralympics on Twitter and like the C4Paralympics Facebook page