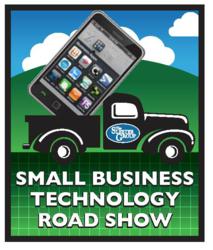 "It's very satisfying to meet with attendees and hear how they've been motivated by what they've learned; they like having the agility to be able to leverage multiple connected solutions rather than just having the ability to know one system well."
(PRWEB) July 06, 2012
Small Businesses no longer have to be at a competitive disadvantage to their larger, better financed counterparts who have more resources at their disposal. Now small businesses and accounting professionals can learn how to collaborate through private portals and custom dashboards, discover new ways to pay bills, approve invoices, scan and upload expenses via smart phones, and monitor the financial health of their business anywhere, anytime. Accounting professionals who have registered can bring their small business clients for free.
"The wealth of information from expert presenters and local tech-smart businesses is unmatched compared to other industry events," said Doug Sleeter, President of The Sleeter Group. "It's very satisfying to meet with attendees and hear how they've been motivated by what they've learned; it's a day long experience that delivers benefits year-round for the accountant and their small business clients." View video message from Doug Sleeter.
 
Building Success by Being More Efficient, Productive and Collaborative
This is a one-of-a-kind Small Business Technology Road Show that delivers essential information, insight, and experiences for accounting professionals and small business technology users to bring back to the office to improve productivity and profitability. A key focus for the Road Show this year is helping accounting firms and businesses achieve greater collaboration by aligning the right solutions with optimized workflows to achieve greater efficiencies. 
 
"When it comes to delivering business process solutions, The Sleeter Group truly stands above the rest by partnering with the most innovative companies who are connecting the pieces between accounting systems, mobile devices and cloud-based solutions," Sleeter added. "Attendees have the opportunity to learn from industry experts, see in-depth presentations of the best solutions and optimized workflows and clearly understand how these connected technologies truly add value." Accountants will also receive 8 CPE credits.
 
Road Show Overview
Sessions include overview presentations and drill-down workshops and are organized along five tracks: Cloud accounting solutions, Cloud-based business process utilities, Electronic document management solutions, Saas-based Customer Relationship Management (CRM) systems, and Accountant/Client collaboration tools. Attendees can choose from a variety of presentations best suited to their needs.
 
Road show highlights include:
 
· Opening address from Doug Sleeter and Randy Johnston on topics vital to every accounting professional and small business owner, including the latest innovative technologies including recording and tracking expenses, paying bills and sending invoices via mobile devices anywhere, any time.
 
· In-depth discussions on hot industry topics such as real-time accountant/client collaboration, and cloud-based technology solutions including accountant/client dashboards to communicate cash flow and other vital financial information instantly.
 
· Networking opportunities, where attendees can collaborate with their peers and clients and discuss business challenges and strategies. All attendees will receive a free copy of the 80 page booklet "100 Microsoft Excel Tips and Tricks".
  
Local Success Stories
Each city will highlight local businesses that best exemplify success generated by integrating their accounting system with mobile devices and online solutions.
 
"We understand the challenges these small business owners are facing because we've been there," said Sleeter. "From running fragmented systems when I was just starting out and desperately needed connectivity, to figuring out how to communicate my services efficiently, we know firsthand what these small business owners are going through, and sincerely believe that the Small Business Technology Road Show can help them overcome many of their obstacles so they can be successful and grow."
 Great Sessions, Expert Speakers
Accounting Thought Leaders and technology experts Doug Sleeter, The Sleeter Group, and Randy Johnston, K2 Enterprises will host and present the Small Business Technology Road Show seminars. Representatives from Intuit, Sage, Bill.com, Zoho Books, Zoho CRM, Concur, and Cloud9 Realtime will present their solutions.
 
More Information
This year's Road Show will take place in July and August in nine cities: Tampa, Atlanta, Newark, NJ, Dallas, Chicago, Denver, Los Angeles, Seattle, and San Francisco. For the latest information on the Sleeter Group's 2012 Small Business Technology Road Show, and to see dates, hotel locations, pricing, video overview and other details please visit http://www.sleeter.com/roadshow.
 
About The Sleeter Group
The Sleeter Group is a community of Small Business Accounting Technology Experts. At The Sleeter Group we focus on accounting technologies, business processes, best practices, and consulting success. As leaders in the accounting software consulting profession, we help accounting professionals and their small business clients understand how they can fit the pieces together into complete, efficient business systems that will make them more competitive and profitable. We continually study the marketplace of solutions, and comment on what we think is ready for implementation today, as well as what is coming in the future. Through our network of over 800 independent consultants and small- to medium-sized accounting firms, The Sleeter Group network serves nearly 300,000 small businesses each year with QuickBooks and other accounting and technology consulting services.